Urgency of Low Carbon Development Focused on Overcoming Inequality, Protecting the Environment and Livelihood of Indigenous Papuans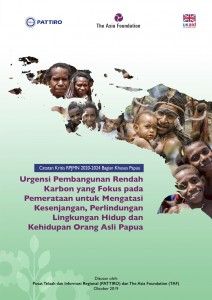 With the advent of the Reformasi period, the Indonesian central government began treating Papua differently. If during the New Order the militaristic approach was dominant, during the Reformasi period, the approach undertaken was to give authority to the Indigenous Papuans (OAP) to be fully involved in the administration of Papua Province through the Special Autonomy (Otsus) policy as outlined in Law No. 21/2001. In general, Otsus provides a guarantee of the protection of the rights of the Indigenous Papuans.
The Special Autonomy policy is supported by funding from the Central Government. Every year the Central Government allocates a Special Autonomy Fund, whose amount is 2 percent of the budget for the National General Allocation Fund (DAU), prioritized for education and health financing. In addition to the Special Autonomy Fund, there are also additional funds whose amount is variable, depending on proposals from the Province, prioritized for infrastructure financing. This funding allocation is commonly referred to as Additional Infrastructure Funds (DTI). From 2002 to 2019, the total Otsus and DTI funds that have been transferred to Papua and West Papua provinces amount to Rp 101.15 trillion, with a trend of increase year by year.
Under the Joko Widodo-Jusuf Kalla regime, the Central Government carries out infrastructure development policies by building the Trans Papua-West Papua roads. This policy was taken to open isolation, so that it would speed up the distribution of logistics and people. Smooth distribution of logistics is believed to reduce the prices of basic necessities, while smooth distribution of people is believed to increase the economic activities of the local communities. Overall, infrastructure development is expected to increase economic growth.