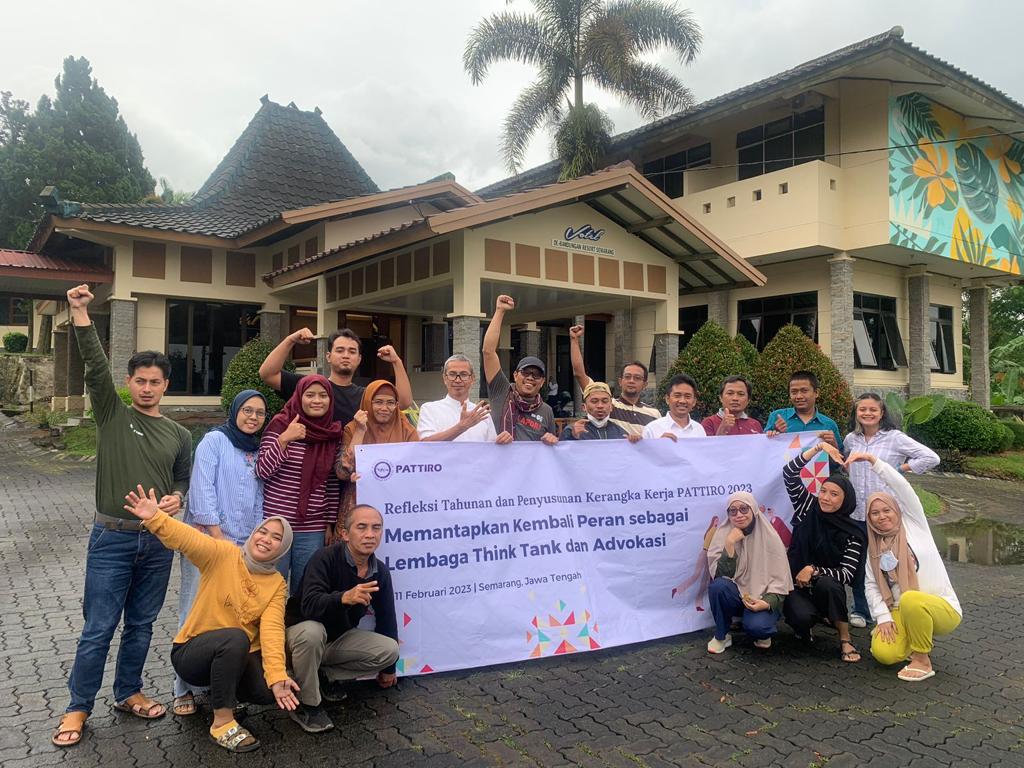 PATTIRO is a research and advocacy organization established on April 17, 1999. We have been working at more than 17 provinces and 70 regencies or cities throughout Indonesia. PATTIRO has been focusing on local governance issues, particularly in decentralization. Through its works, PATTIRO tries to encourage the realization of good, transparent, and equitable governance in order to create social justice for all of Indonesians.

Besides conducting research, PATTIRO use to provides technical assistance for the government. In addition, PATTIRO helps the community in advocating with the government, both central and local, to reform policies, improve public services, and public budget management. PATTIRO has a vision, mission, and principles that become a reference in carrying out its various works.
PATTIRO conducted various research, capacity building, technical assistance, local policy reform, developing public service models/innovations and community participation, and expanding partnership with national and international community.
For various research and policy advocacy efforts so far, from 2011 to 2020, PATTIRO won an award from the University of Pennsylvania, United States as one of the best think tanks. Furthermore, PATTIRO received the 2022 Indonesia SDGs Award given by the Ministry of National Development Planning/Bappenas for the Research Institute category.
Becoming a center of excellence for better governance.
Encouraging the fulfillment of society's basic rights in the public service delivery and public finance management.
Strengthening the capacity of society and government officials in creating a participatory public policy making.
Developing good governance models to create social justice.

In executing its agenda, PATTIRO relies on principles such as social transformation, accountability, transparency, result-oriented, democratization, and equality.
The year 1999 marked a moment of great change in Indonesia. Preceded by the 1998 Reform movement that ended 32 years of the New Order era in power, Indonesia then entered a period of democratic transition. Demands for greater freedoms and a clean, corruption-free government continue to strengthen. In the same year, the Government of Indonesia issued a regional autonomy policy that changed the pendulum of government management from centralization to decentralization.
The regional autonomy policy can be said to be a response to the increasing demands on regional independence from the center and broad community participation in all fields. This regional autonomy policy gives birth to New Hope for the creation of good governance as a tool to improve public welfare. Regional autonomy is expected to provide greater opportunities for the community to actively participate in determining policies, which is a prerequisite for the birth of good governance. Through decentralization, the management and utilization of resources owned by the community will be more in favor of the interests of the community, especially in the regions.
But in fact, changes in the character of the Central-Local relations in this decentralization policy, does not necessarily result in changes in the pattern of community-State Relations (society-state). The community is still an excluded group in decision-making practices, as well as in accessing public services. The determination of the regional budget (APBD) policy, for example, does not involve community participation, especially vulnerable and poor groups. As a result, access to public services is limited. Meanwhile, the practices of corruption, collusion and nepotism have become something that is common in the bureaucracy, even to local governments.
In this context, PATTIRO was established on April 17, 1999 in Jakarta. PATTIRO (Center for Regional Information and studies) as a non-governmental organization that dedicates its activities to efforts to realize good governance and increase public participation in Indonesia, especially at the local level. In other words, PATTIRO seeks to encourage the realization of the goal of regional autonomy, namely improving the quality of public services that have an impact on improving the welfare of the community.
Good public service is a manifestation of social accountability, which is a condition where service providers actually manage public resources for the public interest. In fact, there are still many service providers who are not accountable. PATTIRO made efforts to strengthen citizens through Community Center (CC) so as to advocate the improvement of public services. To obtain accurate data based, PATTIRO facilitates CC to carry out User Based Survey and Citizen Report Card. At the same time, PATTIRO assists service providers and local governments in managing public expectations of services.
The implementation of quality public services will only be realized with the support of good public budget management. Unfortunately, there are still many local governments that have not shown accountable budget management. PATTIRO strengthens citizens and civil society networks at the city / district level to advocate for pro-people and gender-responsive budgets. At the same time, PATTIRO assists central government, local governments, DPR, and DPRD in managing transparent and accountable regional finances.
Transparency makes it easier for citizens to access information on the implementation of local government. Information disclosure is a prerequisite for the active involvement of citizens in the implementation of local government. PATTIRO seeks to improve the ability of citizens to use the right to obtain information through the establishment and assistance of community groups (Community Center, CC). PATTIRO also assists local governments in implementing public information disclosure up to village. Assistance begins with the formation of Information and documentation management officer (PPID), preparation of Information Service Systems and policies, PPID capacity building, and increasing the effectiveness of PPID functions through the application of information and Communication Technology.