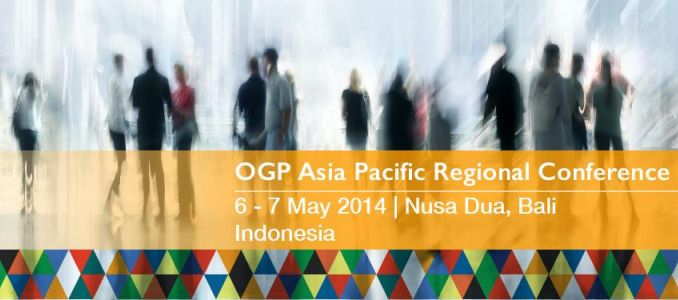 Taking the momentum of the upcoming Open Government Partnership (OGP) Asia Pacific Regional Conference in Nusa Dua, Bali on May 6-7, 2014, we, 183 representatives of civil society organizations coming from 31 Asia Pacific countries and  beyond came together on the Civil Society Day in Nusa Dua on May 4, 2014 to discuss key issues relating to the OGP.
We acknowledge that the OGP is a new multilateral initiative that aims to secure concrete commitments from governments to promote transparency, empower citizens, fight corruption, and harness news technologies to strengthen governance. These commitments respond to four key values: transparency, accountability, participation and innovation.
We honor and support the spirit of OGP and efforts to create openness of government, engaging civil society and giving space to reformers and innovators as key actors of democracy, good governance and development.
Having considered the progress and achievements OGP so far, we considered the three following issues to be relevant and timely for consideration by the Chair and co-Chair, Steering Committee, and OGP country members: First, the importance and need for establishing, expanding and consolidating civic space; Second, that the formulation of the Post-2015 agenda including sustainable development goals and the fundamental needs to incorporate good governance; and third, the need for OGP to establish and maintain a civil society participation mechanism and standard for compliance with OGP's values.
We call on the chair and co-chair to give special attention to the above mentioned issues. These issues and recommendations are explained below:
A. Civic Space
In some democratic states, civil society space has been closed or severely restricted.  Civil society space should be guaranteed and promoted in all OGP countries through the relevant legal framework, institutional arrangements and decision-making practices.
Therefore, we call on:
OGP country members to extend the open data program to cover both government and private sectors.
OGP country members to ensure the provison of infrastructure for communication especially for vulnerable groups, including person with disabilites, indigenous people, LGBT groups, and women.
OGP country members to establish and ensure the implementation of laws that recognize freedom of expression, association and assembly, freedom of information, whistleblower protection and remove restrictions and controls on civil society organizations.
OGP country members to establish laws that provide opportunities for civil society to participate in decision making processes and oversee their implementation.
Civil society leaders in OGP country members to claim their legitimate space in decision making processes and oversee their implementation.
B. Governance in Post-2015 Development Agenda
We take the position that good governance [T1] should be a standalone goal in the Post-2015 agenda. Good governance as a standalone goal will lead to the development of the necessary indicators and targets to measure government bodies in their performance of being efficient, open, transparent, accountable and effective institutions. Placing governance as a cross-cutting theme diminishes its importance, whereas, its position as a standalone goal will highlight it as a critical component to sustainable development.
As OGP country members, there is an obligation to support good governance as a standalone goal in the Post-2015 agenda. In doing so, OGP country members will fulfill their mandate by setting forth the steps necessary to ensure full respect of the right to freedom of expression and information, transparency, and accountability worldwide. By endorsing good governance as a standalone goal, the OGP will ensure the effectiveness of public institutions internationally, and set a framework to enhance inclusive and meaningful public participation in decision-making processes, all of which will lead to and reinforce the sustainable development that we all seek.
Therefore, we call on:
The OGP Chair and country members to support good governance as a standalone goal in the Post-2015 agenda.
The OGP Steering Committee to release a formal letter to OGP country members to support governance as a stand-alone topic in the Post-2015 agenda.
The Asia Pacific leaders to start incorporating governance goals, targets, and indicators into their national planning, and to ensure that OGP country members are actively working towards achieving the targets.
C. Country mechanism/compliance
Many OGP country members are yet to embrace the full extent of partnership in advocating OGP values at country level mechanism. The poor quality of participation has resulted in the low impact of country commitments for their people. We believe that future improvement of OGP in terms of partnership can be achieved if all stakeholders are committed in realizing the following recommendations:
Therefore, we call on:
Country members to ensure that their commitments are specific, strong, and enable deeper transparency at the national and sub-national levels, in line with the international level. Countries shall set clear outcome indicators agreed by government and civil society for each commitment and shall ensure the sustainability of those commitments. Countries shall consider the varying domestic circumstances and ensure that the release of information through modern infrastructure such as the internet or mobile phones, does not leave behind the disadvantage and marginalized people who are not under the coverage of such modern infrastructure.
Country members to set standards of governance at the national level. Countries shall create a platform in which there is equal representation from government and civil society. The non-involvement of civil society in the making and implementation of country commitments should be considered as a violation of OGP values. Each OGP country member should make clear and explicit mechanisms to facilitate civil society consultation in the making, implementing and monitoring of Action Plan, and together with civil society, establish a mechanism to enable equal position in decision making. Countries should elaborate, in their self-assessment, the nature of multi-stakeholder consultation, as mandated by OGP requirements.
Country members to take into account performance on human rights as stipulated in the OGP Declaration. Country members shall demonstrate, in their self-assessment report, that they have taken sufficient measures to guarantee their citizens' ability to exercise their rights to access information and participate freely, by effective implementation of Access to Information laws, protecting whistle blowers, as well as ensuring adequate response to laws/provisions that have the potential to violate the access to information of their citizens. The Steering Committee must take a holistic approach on country compliance, taking into account not just the Independent Reporting Mechanism (IRM), but also, other independent reports on violations of OGP values.
Participants of the Civil Society Day,
CSO Day May 4, 2014 – Bali
| | |
| --- | --- |
| No | ORGANIZATION |
|   | Organisers/Facilitators |
| 1 | Transparency International – Indonesia (TII)- Coordinator |
| 2 | MediaLink – Vice Coordinator |
| 3 | Pusat Telaah dan Informasi Regional (PATTIRO) – Member |
| 4 | International NGO Forum on Indonesian Development (INFID) – Member |
| 5 | Sekretariat Nasional Forum Indonesia untuk Transparansi Anggaran (SEKNAS FITRA) Member |
| 6 | Indonesian Center for Environmental Law (ICEL) – Member |
| 7 | Sloka Institute – Member |
| | |
| | CSO Participants |
| 8 | Indonesia Corruption Watch (ICW) |
| 9 | Prakarsa |
| 10 | Transparency International – Australia |
| 11 | GESOC |
| 12 | Ford Foundation |
| 13 | NCPRI |
| 14 | World Wide Web Foundation |
| 15 | National Campaign for Peoples Right to Information, India |
| 16 | AMAN Indonesia |
| 17 | Swandiri Institute |
| 18 | Indonesia Budget Center (IBC) |
| 19 | Thai Netizen Network |
| 20 | PWYP Indonesia |
| 21 | Aliansi Jurnalis Independen |
| 22 | Transparency International – Nepal |
| 23 | Land in Our Hands |
| 24 | Myanmar Positive Group |
| 25 | Open Society Foundation – Myanmar |
| 26 | Information First Nepal |
| 27 | Lembaga Penelitian Psikologi (LPPSi) |
| 28 | Lingkar Studi Sosial dan Advokasi Rakyat (LASKAR) Batang |
| 29 | Pusat Studi Konstitusi (PUSAKO) Sumatera Barat |
| 30 | Transparency International – Philippines |
| 31 | Jawa Pos Pro Autonomy (JPIP) |
| 32 | FITRA JATIM |
| 33 | Pattiro – FOINI |
| 34 | Human Rights Watch Group (HRWG) – Indonesia |
| 35 | OKFM |
| 36 | Perkumpulan untuk Pemilu dan Demokrasi (Perludem) |
| 37 | Masyarakat Pemantau Peradilan Indonesia (MaPPI) |
| 38 | LPI PBJ Banjarbaru |
| 39 | Australian Indonesian Youth Association |
| 40 | Open Society Forum |
| 41 | Civil Society Forum for Paeace |
| 42 | Open Knowledge China |
| 43 | Prasetya Mulya School of Business & Economics |
| 44 | Transparency International – South Korea |
| 45 | Parlemen Muda Indonesia |
| 46 | Economic Research Center |
| 47 | Masyarakat Transparansi Aceh (MATA) |
| 48 | Better Life |
| 49 | Global South Initiative & Post-2015 |
| 50 | YAPPIKA |
| 51 | Transparency International South Korea |
| 52 | Lembaga Pengembangan Masyarakat Swamandiri (Lembaga Gemawan) Kalimantan Barat |
| 53 | Open Knowledge Foundation Japan |
| 54 | Local Resource Centre |
| 55 | Transparency International – Bangladesh |
| 56 | Sinergantara |
| 57 | ANSA-EAP |
| 58 | Engage Media Nepal |
| 59 | Institute for Education development, Social, Religious and Cultural Studies (INFEST) |
| 60 | Komite Peralihan Agraria (KPA) |
| 61 | ANSA East Asia Pacific |
| 62 | Transparency International Papua New Guinea |
| 63 | Public Services Labor Independent Confederation (PSLINK) |
| 64 | Bojonegoro Institute |
| 65 | Code-NGO |
| 66 | Transparency International |
| 67 | Article 19 |
| 68 | Center for Indonesia Taxasion Analysis |
| 69 | Institut TIFA Damai Maluku |
| 70 | Malaysian Centre for Constitutionalism and Human Rights (MCCHR) |
| 71 | Women Organization Network |
| 72 | Sex Workers Network in Myanmar |
| 73 | Freedom Forum |
| 74 | The Access Initiative Global Netwokr |
| 75 | Advocacy and Policy Institute |
| 76 | Kalimantan Huma Hijau Institute (KH2 Institute) |
| 77 | Indonesian Institute for Independent Judiciary |
| 78 | Oil Worker Rights Protection Organization |
| 79 | Philippines Center for Investigative Journalism |
| 80 | JARI – Kalimantan Tengah |
| 81 | Making All Voice Count |
| 82 | Bandung Institute of Governance Studies (BIGS) |
| 83 | Open Society Foundation Malaysia |
| 84 | Incibbon |
| 85 | Malaysian Centre for Constitutionalism and Human Rights (MCCHR) |
| 86 | Luta Hamutuk Institute |
| 87 | KPRK Blitar |
| 88 | IESR |
| 89 | KOPEL Makassar |
| 90 | Gerakan Anti Korupsi Aceh (GERAK Aceh) |
| 91 | Media Link |
| 92 | Pyoe Pin Programme, DFID |
| 93 | Open Society Foundation Pakistan |
| 94 | Transparency International – Vietnam |
| 95 | IESR |
| 96 | Serikat Buruh Migran Indonesia (SBMI) |
| 97 | Indonesian Institute for Independent Judiciary |
| 98 | MASS |
| 99 | SPECTRUM (SDKN) |
| 100 | Sekretariat Nasional JARI Indonesia |
| 101 | Procurement Law Academic Network (PLAN) |
| 102 | Pusat Telaah dan Informasi Regional (PATTIRO) Banten |
| 103 | PIAR NTT |
| 104 | Transparency International – Cambodia |
| 105 | Perkumpulan Inisiatif |
| 106 | Twaweza |
| 107 | OKFN |
| 108 | Save the Children |
| 109 | Sustainable Development Foundation ( SDF) |
| 110 | Affiliated Network for Social Accountability in East Asia and the Pacific (ANSA-EAP) |
| 111 | The YP Foundation |
| 112 | Penpol Muda Garut |
| 113 | PSHK |
| 114 | Revenue Watch Institute |
| 115 | Indonesia Budget Center (IBC) |
| 116 | Transparency International – Malaysia |
| 117 | Pyoe Pin |
| 118 | National Youth Congress |
| 119 | Cooperation Committee for Cambodia and Beyond 2015 |
| 120 | CCC – Cambodia |
| 121 | Transparency International – Thailand |
| 122 | Hivos Foundation |
| 123 | COMFREL |
| 124 | 88 Peace and Open Society |
| 125 | STT |
| 126 | Environics Trust |
| 127 | Indonesia Mengajar |
| 128 | IRE Yogya |
| 129 | Walhi Bali |
| 130 | Transparency International – New Zealand |
| 131 | Ateneo School of Government |
| 132 | Sustainable Development Knowledge Network (Spectrum) |
| 133 | Public Affair Management Committee Upper House Parliament |
| 134 | Perkumpulan IDEA |
| 135 | MC4T |
| 136 | Fitra Riau |
| 137 | Global Btap |
| 138 | Open Government Institute |
| 139 | Migrant Care |
| 140 | IDEAS |
| 141 | Pusat Telaah dan Informasi Regional (PATTIRO) Semarang |
| 142 | Luta Hamutuk Institute |
| | |
| | Non CSO Participants/Donor/etc. |
| 143 | OGP Support Unit |
| 144 | OGI |
| 145 | OGP |
| 146 | Kemitraan (Partnership for Governance Reform) |
| 147 | TIFA Foundation |
| 148 | Hivos Foundation |
| 149 | Omidyar Network |
| 150 | MSI |
| 151 | USAID – JPIP |
| 152 | USAID DG Office |