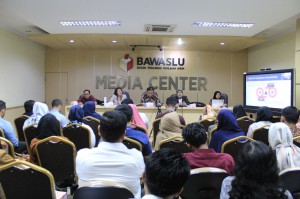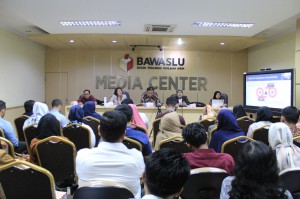 Violations of State Civil Apparatus (ASN) neutrality during the 2019 elections were quite prevalent. Unfortunately, law enforcement in the form of sanctions for violating ASNs has been weak.
This was stated by PATTIRO Program Manager, Bejo Untung in a public discussion titled "Reflections of the 2019 Elections: ASN Neutrality and Quality of Procedural Democracy," which was jointly organized by PATTIRO, KASN, Bawaslu RI, and KPPOD at the Bawaslu RI Building, Jakarta, Tuesday (6/8/2019).
Bejo explained that ASN must maintain a neutral stance in the political sphere. This is expressly regulated in the ASN Law, Law No. 7/2017 regarding Elections (Election Law), and Government Regulation PP No. 53/2010 concerning Discipline of Civil Servants. Unfortunately, many ASNs continued to violate neutrality in the 2019 election period. Results of monitoring by PATTIRO, KPPOD, Bandung Initiative Association, PATTIRO Semarang, PATTIRO Malang, and NGO networks in four cities, namely Jakarta, Bandung, Semarang and Surabaya, found at least 89 cases of violations.
"Of the 89 cases found during the monitoring period from March to May, 66 of them were found on social media. The types of violations on social media are usually uploading pictures or photos of election participants and responding to them in the form of positive comments and likes," explained Bejo.
He added that besides through social media, violations of ASN neutrality during the 2019 elections were also found directly, appearing in several forms of violations.
"The types of violations of ASN neutrality encountered directly include attending declarations of support for election participants (8 cases), engaging in campaigns and holding events that show support (8 cases), mobilizing others to support election participants (4 cases), becoming guest speakers at events organized by election participants (2 cases), and installing campaign props (1 case)," Bejo added.
In response, Bejo stated that PATTIRO encouraged the State Civil Apparatus Commission (KASN) as the institution with the mandate to oversee ASN neutrality, to be more proactive in soliciting reports from the public and following up with investigation and verification. More importantly, KASN is expected to compile reports with strong evidence, so that the recommendations submitted to the Employee Supervising Officer (PPK) as the superiors of ASNs can be followed up with enforcement of sanctions.
"As stipulated in the ASN Law, KASN submits reports on violations of the ASN code of ethics and code of conduct to PPK as well as recommending to the PPK to determine sanctions for the ASN concerned. If PPK does not carry out its recommendations, KASN can file a report to the President and recommend the application of sanctions to the PPK," said Bejo.
PATTIRO also encourages KASN to take a collaborative approach with the Ministry of Administrative Reform and Bureaucracy Reform (KemenPAN-RB), the National Personnel Agency (BKN), and the Ministry of Home Affairs (MOHA) to optimize support so that recommendations issued will be complied with by the PPK.
"This is important because other than KASN, KemenPAN-RB and BKN are ministries/institutions responsible for conducting ASN supervision, and the Ministry of Home Affairs is responsible for supervising Regional Heads, so they have a strategic position to encourage PPK from the Regional Head element to comply with ASN recommendations," Bejo stressed. (FM)