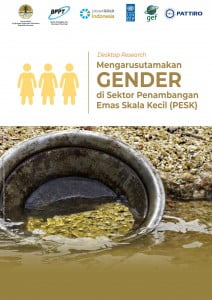 Mercury poisoning is a serious threat to human health, as evidenced by the Minamata Tragedy of the 1950s. Consumption of mercury-tainted seafood resulted in the emergence of a variety of mysterious neurological diseases, even death, among residents of Minamata Bay in Kumamoto prefecture, Japan.
People suffering from the disease complain of numbness in the hands and feet, inability to grasp small objects, unsteady walking and voice changes. Many also complained about difficulty seeing, hearing, and chewing. For some, these symptoms lead to coma or even death. The population estimated to be affected by the disease at that time numbered approximately 12,000 persons (Seminov, 2018).
Indonesia is among the countries that signed the international agreement "Minamata Convention on Mercury", which aims to protect human health and the environment from emissions and releases of mercury and mercury compounds caused by human activities. This agreement has been ratified through Law Number 11 of 2017 concerning Ratification of the Minamata Convention on Mercury. The government is committed to reducing the risk of the impact of mercury on society and the environment, by planning to eliminate mercury in 4 priority areas by 2030. One of the priority areas for reduction is Artisanal and Small-Scale Gold Mining (ASGM), which is targeted to decrease 100% (become mercury free) by 2025. This commitment for reduction is contained in Presidential Regulation (Perpres) Number 21 of 2019 concerning the National Action Plan for Mercury Reduction and Elimination. Through this policy, the government mandates the central and regional governments to formulate a National Action Plan (RAN) and a Regional Action Plan (RAD) related to mercury reduction and elimination (PPM).
As a follow-up to the Presidential Regulation, the Ministry of Environment and Forestry has issued Minister of Environment and Forestry Regulation Number 81 of 2019 concerning Implementation of Presidential Regulation Number 21 of 2019. This policy contains technical operational procedures for the preparation, monitoring and evaluation, reporting of RAN and RAD PPM, and integrated monitoring and evaluation systems for mercury reduction and elimination.
"Dokumen ini masih tersedia dalam versi Bahasa Indonesia"
[wpdm_file id=211]