PATTIRO Conducted a Kick-Off Meeting for VICRA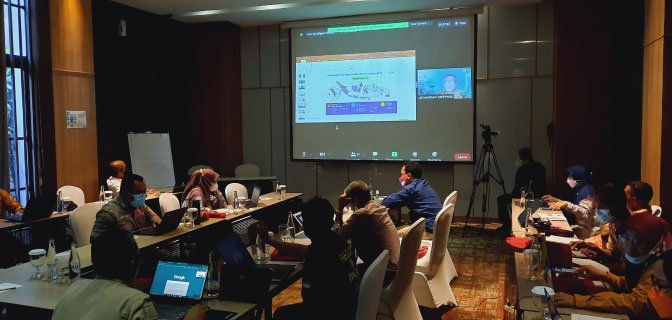 Government of Indonesia  has estimated the potential loss of Gross Domestic Product (GDP) as an impact of climate change. Based on a study conducted by the Ministry of National Development Planning/National Development Planning Agency (Bappenas) in 2019, Indonesia will experience a potential economic loss of up to IDR 115.4 trillion in 2024 in four sectors, namely marine and coastal, water, agriculture, and health. To minimize these potential losses, Bappenas has released a Climate Resilience Development Policy document for 2020-2045. This policy encourages all Indonesian Ministries and Institutions to implement climate change resilience actions in super-priority and priority areas.
As a part of the effort to ensure that Climate Resilience Development Policy is implemented inclusively, the Centre for Regional and Information Studies (PATTIRO) together with eight CSOs partners in West Sumatra, Lampung, West Nusa Tenggara, and East Nusa Tenggara, have developed a program, named "Voice for Inclusiveness Climate Resilience Actions (VICRA)", which will be implemented until mid-2024. This program, which is supported by the Embassy of the Kingdom of the Netherlands, ​​will specifically oversee the implementation of Climate Resilience Development Policy in the agricultural sector through the involvement of vulnerable groups by broadening the civic space.
As the beginning of VICRA, PATTIRO has successfully conducted a Kick-Off Meeting with CSOs (program implementers), namely Yayasan Ayo Indonesia, YPPS, KONSEPSI, TRANSFORM, Mitra Bentala, PKBI West Sumatera, LP2M, and Bengkel APPeK on 23-25 ​​November 2021 in Bali. In his opening speech, Executive Director of PATTIRO, Bejo Untung said, the purpose of this activity was to synchronize the perception and understanding between all program implementers regarding program design, outcomes, and outputs that want to be achieved in VICRA.
"Moreover, the most important thing from this event is we can exchange information about the local conditions and impacts of climate change in each region. We can determine together the right strategies to implement this program, to achieve the expected goals," said Bejo.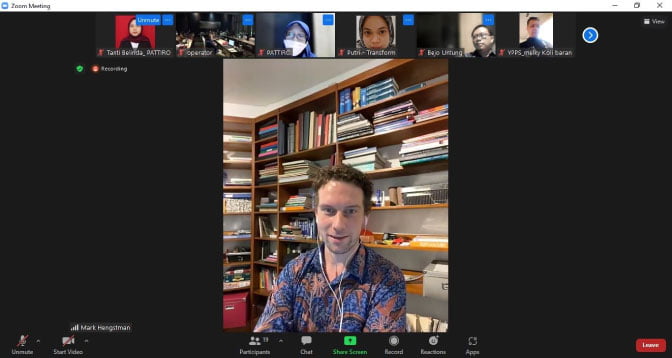 The VICRA's Kick-Off Meeting was attended virtually by the Deputy Head of Political Division of the Embassy of the Kingdom of  the Netherlands, ​​Mark Hengstman. In his opening remarks, Mark emphasized that climate change is a real issue that is currently happening and it calls serious actions to tackle the issue. In responding the climate change, we should not focus only on reducing greenhouse gas emissions but we need to take solid climate-resilient action. In developing strong climate resilience actions, it is necessary to accommodate experts' points of view, such as farmers and stakeholders in the agricultural sector. Mark pins hope on VICRA and he is looking forward to the work plan and results of this program. Furthermore, Mark emphasized that PATTIRO and the CSOs consortium can ensure that the voices of civil society groups, including farmers and vulnerable groups, can be heard in climate change resilience actions.
The VICRA's Kick-Off Meeting was also attended virtually by the Director of the Environment Affairs of Bappenas, Medrilzam, and the Head of the Centre for Food Availability and Scarcity of the Ministry of Agriculture, Andriko Noto Susanto. In his presentation, Medrilzam explained that this Climate Resilience Development Policy is a form of the Indonesian government's response to anticipate the impacts of climate change. Through the implementation of the Climate Resilience Development Policy, ​​it is projected to reduce the potential economic loss up to IDR 281.9 trillion by 2024. During 2020, the Climate Resilient Development Policy has been implemented through 171 actions at the Ministerial and Institutional level, which were expected to reduce the economic losses of IDR 44.86 trillion. Medrilzam hopes that VICRA can assist the central government in promoting Climate Resilient Development Policy at the local level.
"I hope through the VICRA program, advocacy in the agricultural sector will not only make a positive contribution to farmers but also to the government, because we (the government) also want to hear the voices of farmers in responding the climate change," said Medrilzam.
At the same time, Andriko is optimistic that, through a well-coordinated action, the impact of climate change on the agricultural sector can be suppressed. One indicator that can be seen is the decline in the Food Insecurity Experience Scale (FIES) or the level of individual concern about food insecurity in 2020, even though Indonesia is being hit by the COVID-19. Andriko also emphasized that whatever happens, food should not be a problem, including climate change which we are currently facing together. According to him, if food is not provided adequately, it will be difficult to produce healthy, active, and productive populations. One of the strategies that can be implemented to improve food security is by developing climate-resilient commodities. The commodity should not only have a function as food, but also has an ecological function, such as Sago, Breadfruit, Banana, and Sorghum.
"Whatever happens, we should not feel hunger, because if we are hungry, a bigger disaster will befall us and that means civilization in the world will be threatened," concluded Andriko.
Through this Kick-Off Meeting, a work plan that will be implemented by CSOs in nine regions has been formulated for the next 32 months.