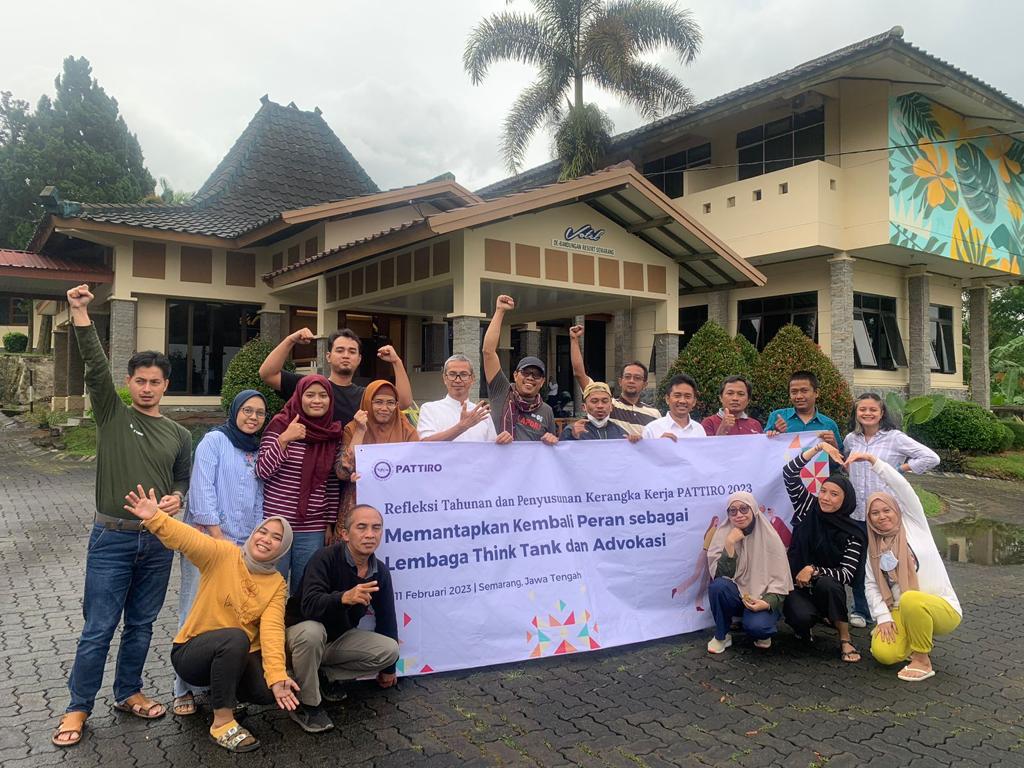 Take one step backward to take two steps forward. In formulating steps forward, we need to look back at the situation backwards as a reflection of the various achievements and series of events that we have faced. PATTIRO has faced various situations and a series of activities, both those that have achievements and those that are still in progress, during 2022. With the theme "Reaffirming the Role of PATTIRO as a Think Tank and Advocacy Institution", on 6-11 February 2023 PATTIRO carried out Annual Reflections and Preparation The 2023 Framework in Semarang, Central Java.
In his remarks, Bejo Untung, Executive Director of PATTIRO, said this meeting should be used as developing and reflecting on activities that have been carried out during 2022. In addition, this reflection is also to identify challenges and added value to develop PATTIRO's big framework in moving forward as a think tank and advocacy organization for 2023.
Based on the achievements in 2022, PATTIRO has succeeded in encouraging the implementation of budget management policies through an ecological-based fiscal incentive scheme. Apart from that, PATTIRO also received recognition from Bappenas as one of the best research institutions in the SDGs Action Awards. PATTIRO is also continuously encouraging the implementation of climate change adaptation policies and improving the performance of public services.
Establishing as a think tank and advocacy institution is carried out through the development of research on various current issues, including climate change adaptation, environmental governance, public service governance, and others. To support this, PATTIRO also conducts institutional development by increasing the capacity of the members, knowledge management, communication strategies, network development, and improving organizational governance.
As an effort to support PATTIRO's work, capacity buildings during 2022 that has been carried out were: improving English language skills among activists, training in communication strategies, training in gender responsive budget analysis, and training in writing effective reports. In addition, to participating in training organized by the institution, members also actively participate in training conducted independently by other members through discussions and learning by doing in the program being supported.
Besides to carrying out institutional development on increasing the capacity of activists, PATTIRO also carried out development on the knowledge management system. This effort is carried out by taking an inventory of knowledge and publications that have been produced on the PATTIRO website. This publication can be freely downloaded via the website which is regularly updated.
As an effort to achieve the vision and mission, PATTIRO develops a communication strategy to reach a wider audience and develops the capacity of activists through various trainings. This continues to be done because PATTIRO as a research and advocacy institution plays in the "action arena". Gathering support from various stakeholders is needed to dominate the arena.
In order to support the communication strategy, skills in developing and managing networks also need to be developed for internal activists in 2023. The network maintenance is still weak and networking activities have not been made into a strategy in program implementation.
Meanwhile, during 2022 PATTIRO has youth who become new members. This has also colored PATTIRO's work as a think tank and advocacy institution. "PATTIRO needs to listen to their voices in reflecting on their feelings and experiences while active at PATTIRO, as well as ideas and of course smart ideas," added Bejo Untung in his speech. Therefore, in 2023 PATTIRO has the desire to develop programs for young people so that the issues explored by PATTIRO can reach an audience of young people. This is also an opportunity to develop the PATTIRO network among young people.