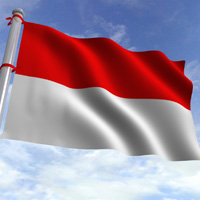 Indonesia is an intercontinental country having 17,508 islands. Its population reaches more or less 237 millions and is estimated to continue growing and reaching to 315 millions in 2035. With area of 1,919,440 kilometer square, Indonesia is the 16th world's vastest country. Indonesia is also known as having the largest Moslem population in the world.
There are five big islands in Indonesia. They are Sumatera, Sulawesi, Java, Kalimantan and Papua. Java is the most populated island of the country. Many kinds of race, ethnic, language and religion live and grow in Indonesia, including faith in supernatural beings and relics, as well as syncretism between local beliefs and one of five religions, such as Islam Kejawen, which is an assimilation of Islam and local belief.
Biological diversity in Indonesia is the world's second largest after Brazil. Some endangered endemic fauna live in Indonesia, such as Anoa (Sulawesi), Orang Utan (Kalimantan), One-horned Rhinoceros (Java) and Sumatran Tiger (Sumatra). Now these fauna are in the brink of extinction for the destructive hunting, black market and deforestation.
Indonesia has 33 provinces. Each province is autonomous and has its own laws and regional head or governor. By the issuance of Law no.22/1999 on local autonomy, most of national government's authorities are transferred to autonom regional heads.
Indonesia is still categorized developing country. In March 2008, there were 34.96 millions or 15.42% of Indonesian population who live under poverty line. Most of these poor population live in rural areas, i.e, 63.47%, and 70% of them work in agriculture sector.
Another thing to note about Indonesia is the political dynamics. One of important moments in Indonesian history is the fall of New Order in May 1998 that led Indonesia to reform era. It brought significant changes to Indonesia. One of them is the open opportunity for democratization strengthening in Indonesia. This is particularly evident in general election events, in which Indonesians directly vote their representatives for legislative body, as well as president as vice president.