[wpdm_file id=10 desc="true"]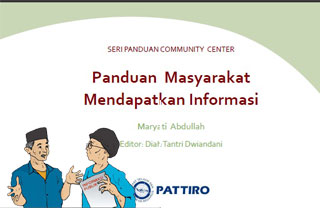 In everyday life, we certainly need the information, whether it is information relating to employment, physical and spiritual interests, health, education, daily needs, as well as relevant developments in science all around us and in the other hemisphere.
Every person has the right to freedom of information as a human right that is recognized internationally by the United Nations since 1946 under article 19. Our country guarantees this right under Article 28F of the 1945 Constitution, and in the year 2008 ago, born of Law Public Information (KIP), which bring fresh air to the fulfillment of the right to freedom of information for every citizen. This law is the provision governing the right to information, Public Agency obligations in providing information services, as well as regulate the existence of an independent commission that would make the standard implementation of freedom of information and solving problems of information in case of dispute.
Meanwhile, the people at the grassroots level (grassroots) realize it or not as long as it remains a difficult group of people to get information, either because of geographical location away from the center of administration / information center, as well as factors that lower levels of education and lack of awareness of the importance of information for everyday life.
Therefore, this book is intended to be a handbook for community groups at the grassroots level, both incorporated in the community center that has been initiated by PATTIRO assistance in several areas, as well as to the general public at large. Implementation handbook for community Public Information is also intended as a supplementary book of the series in your community center and theme of previous editions that have been published by PATTIRO.
This book is intended as well as a form of socialization of the KIP Act 14 of 2008. In this case, the authors tried to present it in a simple language with a straightforward explanation. The author also seeks to provide simple examples for citizens to request information, make a complaint to the Public Agency or make a complaint to the Information Commission if people feel disturbed permissions information. At the end of this book, the author also presents some concrete stories that have been made by citizens in some areas.