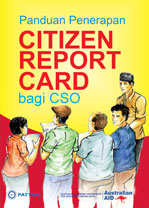 The Citizen Report Card (CRC) is one method of representing the voice of the people as receivers of public services. The report card is a tool that allows for the compiling of public service user ratings and dissemination of that information back to the users of these services as well as service providers. Services are rated according to availability, accessibility, and quality.
Click the link below to download the Application Guideline of CRC
[wpdm_file id=83]
The CRC method utilizes ratings of public service delivery received by the community. The comparison of this ratings can take place between different services provided by one service provider, between services provided within two different units (inter-service unit), or between service units from different places/areas.
The results of the CRC serve as a rating from citizens on the provision of public services and have the ability to support institution change for the improvement of service delivery, so that an optimal quality of service delivery can be achieved for the community.