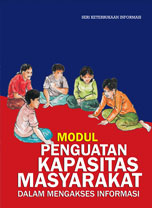 This module was compiled as a guide or reference for parties that carry out training for the strengthening of citizens' capacity to access information from public bodies. Citizens will be capable of obtaining the information that they need and in other ways encourage the improvement of the quality of public service delivery, such that their basic right as citizens can be fulfilled.
Composers:
Budi Raharjo
Patchurrahman
Bejo Untung
Ahmad Rofik
Wawanudin
Muhammad Fahazza
This module is designed for two to three days of training, with material divided into 10 sessions. In this module, there are different methods of learning for each session, depending on the aims that the participant intends on achieving in that session.
Several sessions from this module involve the study of mechanisms that must be undertaken by citizens in order to obtain information from public bodies.
Within this module, a session discusses material on dispute submission mechanisms if information requested by citizens is not provided by a public body.
The module also contains a session that discusses advocacy strategies that must be undertaken by citizens in order to succeed in demanding for information openness. This session also discusses the several possible risks that can arise from demands for information openness along with the anticipation of overcoming these issues.
Specifically, this module also discusses mechanisms for the organising of citizens as a part of the strategy for information openness advocacy.
Click the link below to download the module in english
[wpdm_file id=84]