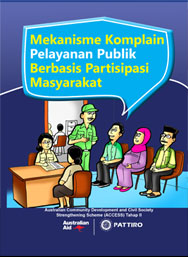 This book was written in order to provide the community with an understanding of a public service delivery complaint mechanism based on community participation. It draws on Law No. 25, 2009, which provides greater room for the community to participate in the management of public service delivery.
To download A Complaint Mechanism for Public Service Delivery Based in Community Participation via Google drive, click here
In this explanation, the writers explore public service in the era of local autonomy along with its problems. In this book, the reader will be shown how to form a Citizen's Information Center, as well as the steps for making a public service complaint by example in the local area.
As a supplement, this book provides an example on Service Declaration at the Jeneponto Healthcare Center, South Sulawesi. In its discussion, the book also explores the position of the Ombudsman of the Republic of Indonesia.