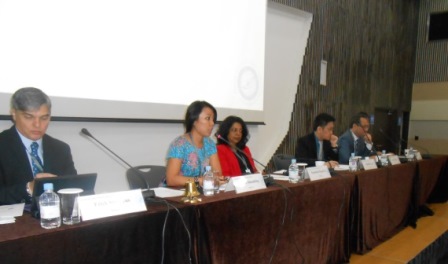 [Jakarta, 3 July 2014] On 23 – 26 June 2014, the UN convened the 2014 edition of the United Nations Public Service Forum. This yearly UN forum was held at the Korea International Exhibition Centre (KINTEX), Seoul, Republic of Korea.
The forum, titled "Innovating Governance for Sustainable Development and Well-being of the People", was organised by the United Nations Department of Economic and Social Affairs (UNDESA), Division for Public Administration and Development Management (DPADM), in partnership with United Nations Entity for Gender Equality and the Empowerment of Women (UN Women), and in cooperation with hosts, the Government of the Republic of Korea.
One aim of this yearly UN forum is to promote the exchange of experience, ideas and best practices regarding public management and administration of social, economic and environmental development. Besides that, in this forum, the UN seeks to recognise governments that have succeeded in providing innovative and sustained public services for their communities, in a manner which is innovative and sustained.
During this forum, PATTIRO was requested to present about the implementation of the Open Government Partnership (OGP) in Indonesia. This OGP theme arose in the forum, as open government is recognised as a basic requirement for the provision of good public services by government.
The participation of PATTIRO in this forum, as a speaker from civil society, is recognition of the work of PATTIRO – and civil society more widely – in the fight for better public services. The UNPSF committee included PATTIRO, as an organisation that is concerned with the issue of OGP and a promoter of public service, to share their local experiences on the international stage.
One of the reasons for the presence of PATTIRO was to attract the interest of nations that were yet to be engaged with OGP, in order to encourage them to join the movement. As such, PATTIRO was represented by Nanda Sihombing, PATTIRO OGP Specialist.
Representatives from several countries were interested in attending the presentation and discussion on OGP, including South Africa and Kazakhstan. Indeed, Kazakhstan openly declared its interest in OGP and will raise the topic as a priority theme for the E-Gov Event forum, which they will be hosting later this year. Last year, this yearly event was also held in Seoul.
Meanwhile, although Malaysia appeared to lack interest in OGP, it was clearly interested in the topic of public engagement, as discussed by PATTIRO in its presentation. Indeed, the Government of Malaysia's experience in mobilizing and cooperating with civil society or the public at large has, admittedly, not yet been sufficient.
To study the presentation that was delivered, please download below: