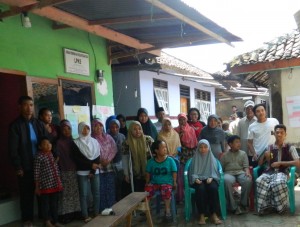 The supports PATTIRO provided to the difable friends in West Lombok District until October 2015 has been running for one semester. During this period of time, there is an important change that should be highlighted; it is the establishment of a difable activist community named Center of Difable Potential Development (PPPD) in Labuapi Sub-district on July 27, 2015.
Collaboration with Labuapi Community Health Center
Three difable activists namely Budi Budi Santoso, Khalid, and Djauhairiah initiated the formation of this community. Fortunately, it got positive response from various stakeholders, including the management of Labuapi Community Health Center. It is marked by the intensive communication established between PPPD and the Community Health Center management.
The communication intensity between PPPD and Labuapi Community Health Center increased after Budi, Khalid, Djauhairiah and other difables in Labupi attended the first meeting of Difable Care Program (Program Peduli Difabel) held by PATTIRO in West Lombok District. This initial meeting then open up more spaces for the three of them (Budi, Khalid, and Djauhairiah) to have more open discussions with the Labuapi Community Health Center management. Moreover, the three difable activists also frequently visit and build a relationship with the Head of Labuapi Community Health Center Sahroji.
Their efforts to approach the community health center officers were not in vain. Sahroji offered PPPD to collaboratively conduct a survey on difables in Labuapi. In this collaboration, PPPD is trusted to collect the data of the difables covered in Labuapi public health services. Later on, based onthe data collected, the Labuapi health center will help fulfilling the rights of the difables to get the Healthcare Social Security Agency (BPJS Kesehatan) card.
So far, the cooperation between PPPD and Labuapi Community Health Center runs smoothly. The data obtained by the PPPD   has been forwarded by Labuapi Community Health Center to other stakeholders and other relevant decision makers in the government, such as the Health Department of West Lombok District.
In fact, in a discussion on every six-month program evaluation held by West Lombok Health Department, Labuapi Community Health Center raised the difable issue in the discussion. Labuapi Community Health Center also proposed an idea; that the Health Department should create a specific program on difables, such as Community Health Centerregular visits to difable groups in West Lombok. Sahroji again re-stated this suggestion to the Head of West Lombok Health Department in Focus Group Discussion on baseline survey on September 14, 2015.
Labuapi Community Health Center efforts to encourage West Lombok government in taking immediate action to address the problems faced by the difables are continued to be made. On October 2, 2015, Labuapi Community Health Center conducted a hearing with the Head of West Lombok Social Department as a step to follow-up the result of the earlier meetings with the Community Health Center throughout the West Lombok District. In this hearing session, Sahroji also delivered and submitted the data on difables that has been obtained by PPPD.
Positive impacts of PPPD
The establishment of PPPD brings some positive impacts to its members. One of them is the growth of PPPD members' confidence.
Before the establishment of this organization, Budi Santoso was often experienced discrimination from his surroundings. Because of his condition,  there is no company willing to hire him. However, after joining PPPD Budi's confidence starts to grow. Able to develop his skill, Budi now already has a job as a photocopy shop keeper.
This also happens to Djauhairiah. Restrictions from her family make Djauhairiah difficult to interact with the people in her community. But now, she has the courage to interact with the community. She has also become a speaker in several discussion forums. Djauhairiah is now one of Persatuan Tuna Netra Indonesia (Pertuni) daily administrators of West Nusa Tenggara
The changes happened in Budi and Djauhariah's lives cannot be considered as small changes because their experiences have been able to influence the community surround them.
While PPPD is a new organization, it has already brought positive impact to the difables in West Lombok District. Now, they are capable to conduct an advocacy process in district level. Their advocacy team now more focuses on the establishment of difabled-friendly community health center.
In addition to that, the cooperation between PPPD and Labuapi Community Health Center has also gradually changed the society's stigma. The people in West Lombok have started to accept the existence of difables in their community.
PPPD is currently conducting an advocacy to encourage basic service quality improvement provided by the community health center to the difables in Labuapi District.