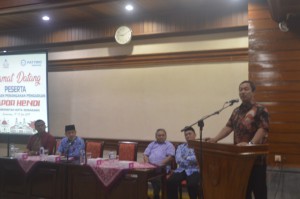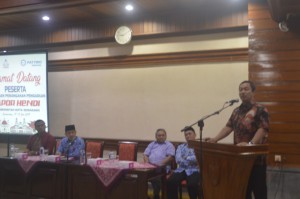 The enactment of Law No. 25 of 2009 concerning Public Services is one form of the government's commitment in improving the quality of public service delivery. This commitment was further strengthened by the establishment of the National Public Service Complaints Management System (SP4N) through the application of the People's Online Aspirations and Complaints Service (LAPOR!), hereinafter referred to as SP4N-LAPOR!, by the Presidential Staff Office (KSP), the Ministry of Administrative Reform and Bureaucratic Reform (KemenPAN-RB) and the Republic of Indonesia Ombudsman Office.
In order to support the implementation of SP4N-LAPOR! in the regional level, PATTIRO, supported by CEGAH-USAID, together with YAPPIKA and regional CSO partners have held complaints management trainings for local government staff in nine cities. PATTIRO Director, Maya Rostanty said these trainings aim to increase the capacity of public service providers in the areas, regarding integrated service complaint management through SP4N-LAPOR!.
"The complaint management trainings aim to train the local government staff in managing public complaints submitted through SP4N- LAPOR! as well as building a shared commitment to implement an adequate mechanism for managing public service complaints that is oriented to complaint resolution," Maya said.
Maya added that in addition to reliable human resources in managing public service complaints, public participation is also needed in the administration of public services.
"One form of public participation in the delivery of public services is realized in the courage of the public in reporting public service issues through SP4N-LAPOR! so that reports submitted by the public are used as feedback by the government in improving the quality of services," Maya added.
Similarly, the Mayor of Semarang, Hendrar Prihadi, commented that in order to encourage the public to participate in the delivery of public services, the Semarang City Government has provided a community complaints channel integrated with SP4N-LAPOR! called Lapor Hendi.
"Lapor Hendi is a part of the effort to encourage the community to inform the government about the service situation that exists in their environment, so that service providers can understand well the situation of the service received by the community," Hendrar said while giving a speech during the Complaint Management Training in Semarang City on July 17, 2019 (FM)