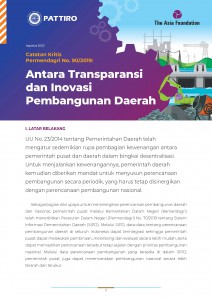 Law No. 23/2014 concerning Regional Government has regulated in such a way the division of authority between the central and regional governments in the framework of decentralization. To exercise their authority, local governments are then given the mandate to compile development plans periodically, which must be synergized with national development planning.
As part of the effort to synergize regional and national development planning, the central government through the Ministry of Home Affairs (Kemendagri) has issued Permendagri No. 70/2019 concerning the Regional Government Information System (SIPD). Through SIPD, data on regional development planning throughout Indonesia can be integrated so that the central government can carry out guidance, monitoring and evaluation more easily, and can ensure that planning remains in line with national development priorities. Through the development planning data available in SIPD, the central government can also plan national development in a more directed and measured manner.
In the context of developing SIPD, the government seeks to issue guidelines for local governments to easily provide more organized development planning information. One of the guidelines that has been published is Permendagri No. 90/2019 concerning Classification, Codification and Nomenclature of Regional Development and Financial Planning. This Permendagri specifically regulates the structuring of regional government financial planning and reporting. In addition to simplifying the budget planning process, this Permendagri is also intended to assist regional heads to evaluate regional performance and finances, provide regional financial statistics, and support information disclosure to the public. In general, the classification, codification and nomenclature arrangement and development of SIPD are carried out in order to support the implementation of the Electronic-Based Government System (SPBE) and One Data Indonesia.
[wpdm_file id=202]