Could the Sanction of DAU Disbursement Postponement be Revoked?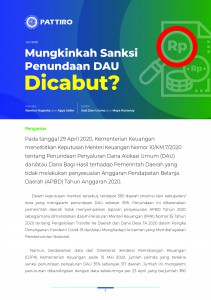 On April 29, 2020, the Ministry of Finance issued Decree of the Minister of Finance Number 10/KM.7/2020 concerning Postponement of Disbursement of General Allocation Funds (DAU) and/or Profit Sharing Funds to Regional Governments that Do Not Make Adjustments to the 2020 Fiscal Year Regional Budget (APBD).
Through this ministerial decree, 380 provinces and districts/cities were to experience a postponement in the disbursement of 35% of their DAU. This was due to the regional governments not submitting the 2020 APBD adjustment report as mandated in the Minister of Finance Regulation (PMK) Number 35 of 2020 concerning Management of Regional Transfer and Village Funds in the FY 2020 in the Context of Handling the Covid-19 Pandemic and/or in Facing Threats That Endanger the National Economy.
However, based on data from the Directorate General of Fiscal Balance (DJPK) of the Ministry of Finance on May 10, 2020, the number of regional governments that have been given the sanction of postponement of distribution of DAU was 317 regions. This number has decreased compared to the previous data, as of April 23, which amounted to 380 regions. The 317 regions consist of 13 provinces and 304 districts/cities (267 districts and 37 cities). In addition, the Ministry of Finance also released the number of regional governments that have not submitted reports, namely as many as 59 regions, consisting of one province, 52 districts and 6 cities.
[wpdm_file id=201]