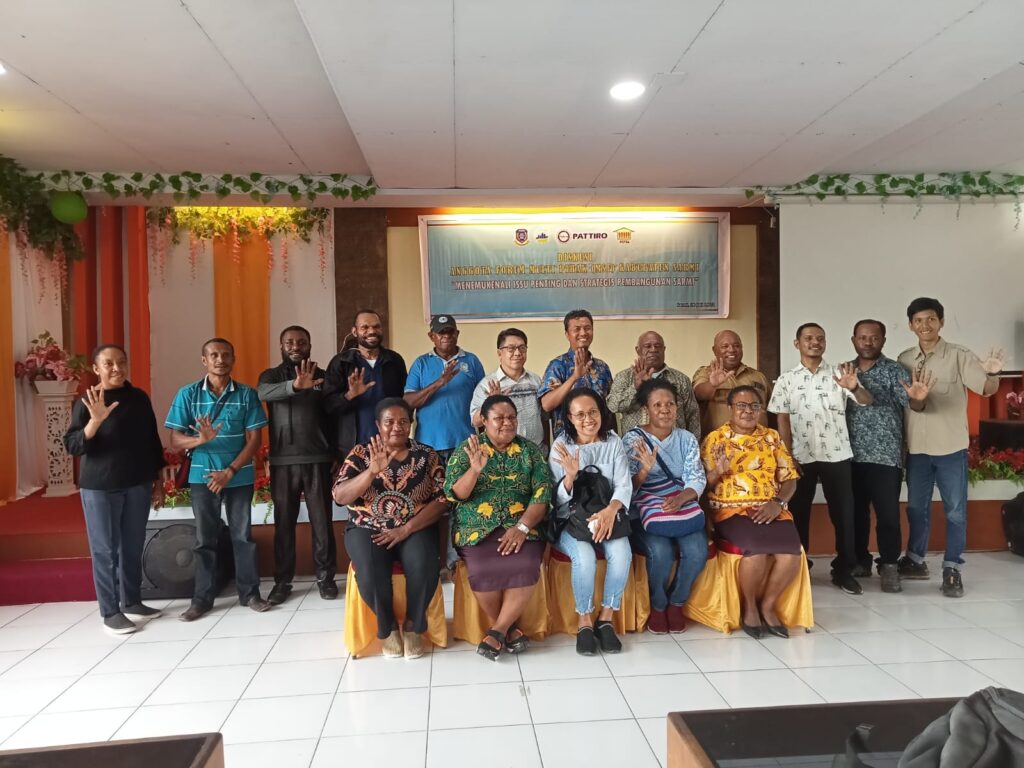 Economic development is a concern in discussions by members of the Multi Stakeholder Forum (MSF) in Sarmi Regency, in line with MSF's strategic plan (renstra) for the 2021-2026 period. This is because most civil society groups that have carried out community capacity building in economic development in Sarmi Regency have so far mostly only focused on product management, but have not yet covered product marketing strategies. This agenda appeared on the agenda of Identifying Important and Strategic Issues for Sarmi Development in the Café Raysa Garsa Meeting Room, on Thursday (20/07). This activity was organized by the Independent Consultation for People's Empowerment (KIPRa) with support from the Regional Research and Information Center (PATTIRO).
Present at this discussion were the Sarmi Regency Food Security Service, Sarmi Regency Legal Bureau, Sarmi Regency General Bureau, Sarmi Regency BPN, Sarmi Regency Bappeda, Sarmi Regency Regional Secretariat, Sarmi Traditional Council, Sarmi Indigenous Community Institution, Sarmi Youth, PPIIG Uncen, WWF Indonesia, INTSIA Papua, PPKS, and IKS.
The presence of MSF in Sarmi Regency, which was realized through the Sayang Sarmi Movement, has given a lot of color to development in Sarmi Regency. The Sarmi Regency Government supports this forum initiative. Frans Rumakiek, as Head of the Sarmi Regency Bappeda and Chair of the Sarmi Regency MSF, said that the government is well aware that development development in Sarmi Regency requires collaboration from various parties, including civil society groups.
"The government has limitations while there is quite a lot of development that needs to be done. "Therefore, the government considers the development collaboration initiatives that emerge from this forum important," said Frans.
Community economic development is one of the concerns in this discussion because there is a natural resource management product that has emerged in Sarmi Regency, namely Sago Sauce which is named SATORI-rica tomato sago. Ahmadi, the facilitator in this discussion activity, said that SATORI had been promoted by the Head of the Sarmi Regency Bappeda through the WWF documentary.
Zakeus Marey, KIPRa Program Manager also added that there are three other processed natural resource products processed by business groups in Sarmi Regency, namely sago flour in Bagesserwa II Village, fish floss in Yamna Village, East Coast district, and fish balls in Armopa Pesisir Village. Irianto Jacobus, Director of KIPRa said that economic development of indigenous communities in Sarmi Regency actually only needs to continue from existing activities and products, not build from scratch. "In the future, there needs to be MSF members from commission 3 which is related to developing business capacity and product marketing to develop this commodity," said Irianto.
Frengki Narahaubun, Sarmi Regency Land Agency, said that the Sarmi Regency BPN utilizes online marketing channels in collaboration with the LADARA platform. In addition, BPN Sarmi Regency is working with Bank Mandiri, which has a platform called Livin Marchent. Products produced in Sarmi Regency can be marketed through these platforms.
Janne Rotha F. Ondowapo, Sarmi Regency Food Security Service, said that in the future development of natural resource processing it is necessary to involve women, especially Papuan mothers in Sarmi Regency, to continue the processed products that already exist at MSF Sarmi Regency.
Apart from involving women, it is also necessary to involve youth in Sarmi District. Bernard Cawem, Chairman of the Sarmi Customary Council, said youths could be involved in maintaining security in Sarmi Regency. This proposal was welcomed by Yosep Emar, youth representative for Sarmi Regency. He said that youth involvement in economic development programs in Sarmi Regency would reduce the unemployment rate in Sarmi Regency because it offered more varied job opportunities in their area.
Apart from community economic development, an important thing that emerged in the discussions of MSF members in Sarmi Regency was issues related to developing youth capacity in Sarmi Regency through Youth Camp activities. Zakeus said that later there would be representatives from each district, namely from Sarmi Regency, Merauke Regency and Jayapura Regency, 8 people each. Representatives from Sarmi Regency will later be coordinated with the Sarmi Customary Council and the Sarmi Customary Consultative Body.
Apart from that, an important issue also emerged in the form of the formation of a Sarmi Regency MSF core team so that the involvement and responsibility for the duties of each member would be clearer. There was also a proposal to provide incentives to the parties involved in making the achievements of the activities carried out by MSF Sarmi Regency a success. "The aim of providing these incentives is to ensure that the activities and skills carried out by the parties involved are not deficient and at the same time to become part of the community's economic income," he said.
In the second phase of the Sarmi District MSF Regional Approach Program, there are three program themes included in the activity plan, namely promoting forest-friendly policies, encouraging the collection and documentation of activities that have been and will be carried out by the Sarmi District MSF, and increasing community capacity in the economic sector through business capacity development and product marketing training.
.