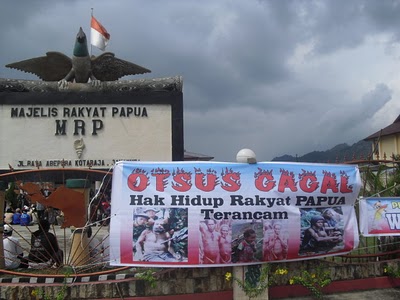 Jakarta – The House of Representatives held a discussion meeting on Papua Special Autonomy (Otsus) issues with Governor of Papua, Governor of West Papua and relevant ministries. The criticism on special autonomy law implementation has emerged in the meeting that Papua Special Autonomy (Otsus) is not up to an expectation.
Indonesia Government through the Interior Minister has prepared an amendment draft law 21/2001 on Papua Special Autonomy. And the Governor also has prepared counterculture roadmap. Let each run in accordance to the process, "said Deputy of House Priyo Budi Santoso speaking in the Parliament Building, Senayan, Jakarta, Friday (05/07/2013).
Papua Parties proposed that Papua Special Autonomy Law revised should become Special Autonomy Plus. After all, Papua people aspirations less accommodated.
"I already have a final draft, hopefully President present and convey this special autonomy plus issue during his annual speech on August 16," said the Governor of Papua Luke Enembe.
Luke demands the local elections in Papua should not conducted directly, but rather chosen by the local parliament. The reason, local tribal ties have more influence than political parties. Then the inter-tribal interests can be accommodated, inter-tribal clashes can be minimized.
"Papua will get a tremendous privilege; the Governor must a native people of Papua. While in other areas there is no legislation like that, "said Priyo.
Papua Special Autonomy Law is now considered as "too top down', dictating to people without absorbing people aspirations first. This also has resulted the absorption of special autonomy fund Otsus not as expected.
" We provided  Papua special autonomy fund roughly  30 trillion rupiah. We hope these funds can be maximized (with a later revision of the Special Autonomy Law), "Priyo said
Therefore, local leaders  hope the Papua Special Autonomy Law Revision Plus can be inserted into National Legislation Program in Parliament. Thus, the implementation of autonomy can be maximum, not like today.
"At this time, criticizing to the central government is neglectful, not exhaustive. But in local level, the implementation of Perdasi (Exceptional local regulations) and special local regulations (Perdasus) is also not finished, "said Priyo evaluating both sides. Danu Damarjati – detikNews ( link https://news.detik.com/read/2013/07/05/210247/2294251/10/mendagri-dan-gubernur-papua-ajukan-draft-revisi-uu-otsus-papua)