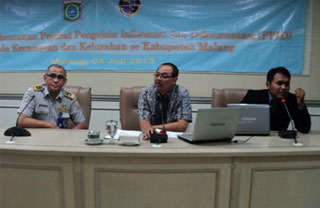 "In the immediate future the whole SKPDs both in district  or village level should immediately establish PPID, since it is aligned with  Malang District Official ( Pemkab) vision and mission.
That what has Malang District Official ( Pemkab) secretary delivered during his speech at the opening ceremony of PPID formation  socialization at district and village level in Malang, July 4, 2013.
Together with  PPID East Java provincial government and East Java Information Commission PATTIRO participated in this event as resource persons . This activity is a continuation of a series of previous socialization. In the presentation PATTIRO asserts, "it is time for local government to provide an  information services to whole people, If  with information civil society will be developed,  and to be empowered and toward a more prosperous,  then surely it will be a religious value (amal Ibadah) for all  of you-  fathers and mother-  as a official. "
This socialization become Malang District Official ( Pemkab)  commitment to Implement Freedom of Information Law. The budgets are from APBD of Malang District Official ( Pemkab) Malang in 2013.