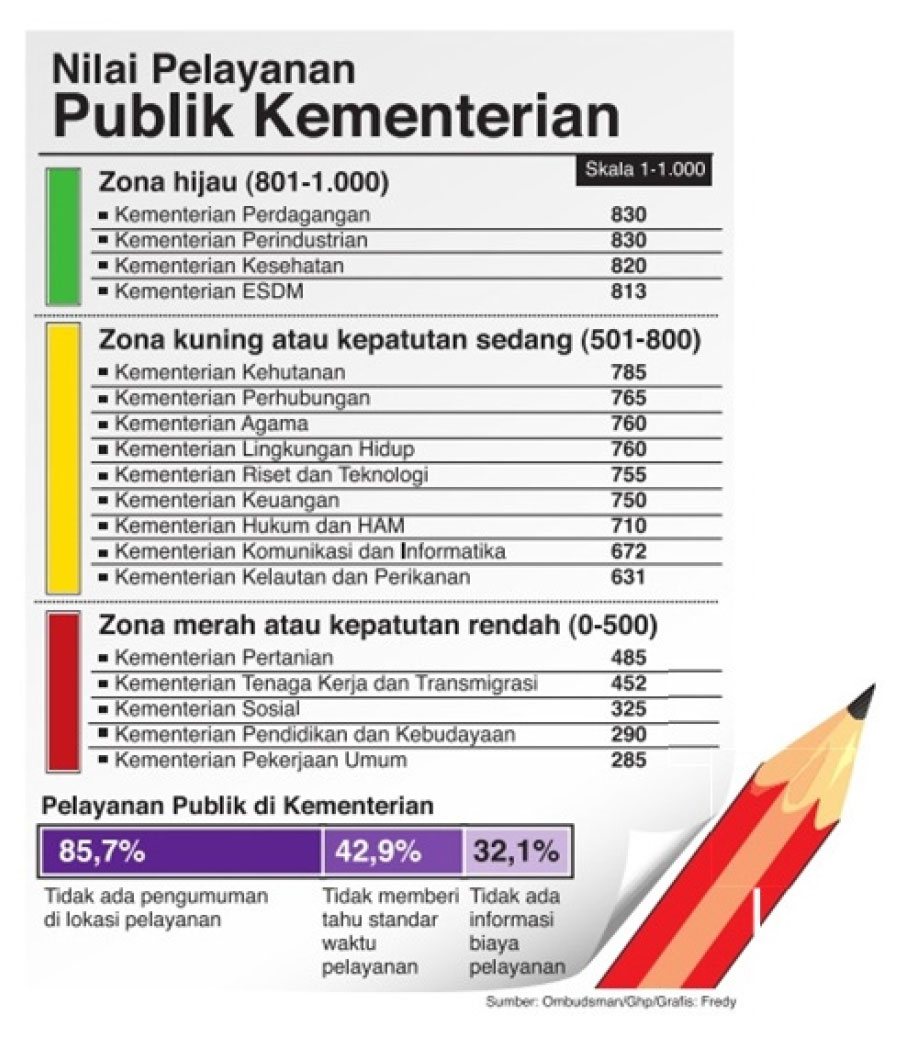 Ministry of Public Works (PU) ranks the worst ministry from 18 ministries was surveyed by Ombudsman in terms of compliance with Public Service Act No. 25/2009. On a scale of 1; 1000, the Ministry of Public Works only got a score of 285.
According to the Ombudsman's survey, there are four other ministries are also categorized as red report card, namely Kemendikbud, Ministry of Social Affairs, Ministry of Manpower and Transmigration, and the Ministry of Agriculture (see chart)
Red report card is given to the ministries which has the lowest compliance to the Public Service Act. Two other categories are classified yellow as moderate and green for high compliance.
There are several Indicators highlighted in this assessment including whether the services duration standard displayed or not, cost of information and the facilities access for people with special needs.
Chief of Ombudsman Danang Girindrawardana said the survey results are submitted to the relevant ministry in order they immediately rectify. However, he explained, it's suggestions, not recommendations. "If it's the recommendation, The agency shall implement under the law. " He explained.
Danang said within the next six months, there will be a re-evaluation to assess whether the report responded by ministries with noticeable improvements. If still violating, then the recommendations will be issued.
When he asked to response the result of survey, Head of Communications Ministry of Public Works, Danis Surnadilage He claimed that he doesn't know. "We will learn on what the public service considered as less implemented," said Danis. According to him, the Ministry of Public Works does not do public service directly.
On the other hand, Kemendikbud and the Ministry of Agriculture stated it the survey results will be used for our improvement. "For the sake of performance improvement, of course, we are very pleased to accept the criticism and the survey result will be became the benchmark of public service improvement in the future," said Kasim Mustiar , Vice Ministry of Kemendikbud for Education unit.