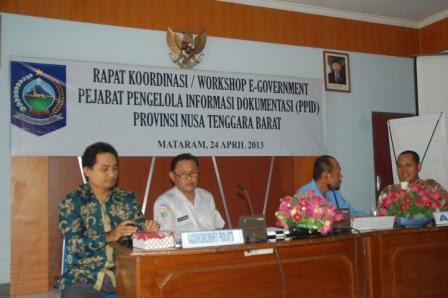 OCTOBER 30, 2013
Ministry of Home Affairs has recognized West Nusa Tenggara's Information Management Officer (PPID) to be the best PPID in Indonesia. West Nusa Tenggara's Public Information System is seen as being very useful for the community.
West Nusa Tenggara's achievement is also shared with Central Java and East Java. The award is given by the Secretariat General of the Ministry of Home Affairs, Diah Anggraini, in the National Coordination Meeting for Local Government PPID throughout Indonesia yesterday, October 21st, 2013. The award for West Nusa Tenggara is accepted by West Nusa Tenggara's PPID Secretary Tri Budiprayitno.
According to Tri, West Nusa Tenggara is currently the only province that has the public information system network application. The application is now embedded in 4 PPID which is in the Health Agency, Public Works Agency, Local Development Agency and the Youth Education and Sports Agency.
The dynamics of PPID Public Information System is that it significantly facilitates the public to access information from the government. The program works like an Internet search engine and functions as West Nusa Tenggara provincial government's online information database.
The program will greatly support PPID work in serving information requests. List of information that has been prepared is uploaded onto the server of West Nusa Tenggara's Main PPID at the Communication and Informatics Agency. With the application, information requests can be served within 24 hours with all requests being officially recorded.
"During the National Coordination Meeting, simulation is done specifically to see how the public information system works. At the time, 353 Local Government PPID from all around Indonesia were present," said Tri.
He continued to say that the award shows that now West Nusa Tenggara has been recognized to run public information system properly, by showing information needed by the community.
Achievement as the best PPID cannot be separated from the support given by AIPD (Australia-Indonesia Partnership for Decentralization), Ministry of Home Affairs and Ministry of Communication and Informatics, including AIPD support in providing hardware and software for the Public Information System. In the future, Tri said, West Nusa Tenggara expects to receive assistance until the application is fully implemented and running in 41 Regional Working Units (SKPD) in other provincial governments.
Quoted from Lombok Post, October 24th 2013.