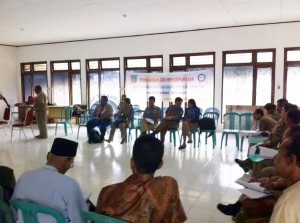 As mandated by the 1945 Constitution of the Republic of Indonesia, every Indonesian citizen reserves the right to social welfare and protection. However, up to this moment, it seems that the State is still not able yet to fulfill, particularly, the rights of the persons with disabilities to social welfare and protection. To encourage the role of the government as the provider of its people's rights, specifically the difables, assisted by Central of Regional Information and Studies (PATTIRO), the Government of Sorong District is currently composing the local regulation draft on protection and rights fulfilment of persons with disabilities.
In order to capture more inputs, on 22 September 2015, the Government of Sorong District conducted a focus group discussion on the draft of the local regulation. Attended the meeting the representatives of Sorong Government such as the Head of Legal Division of Sorong District Government, head of villages, as well as representatives from Sorong Social Department, Health Department, Department of Education, Department of Labour, and Sorong Vocational Training Center. Academics, activists, priests, as well as civil society organizations were also present at this meetings.
There are several interesting points PATTIRO identified in this local regulation draft related to persons with disabilities rights to education, employment opportunities, and health care. "It is stated in article 30 of the Local Regulation Draft on Protection and Rights Fulfillment of Persons with Disabilities that in the admission selection for Civil Servant Candidates (CPNS) the Government of Sorong District must provide at least 1 percent quota for the disabilities", explained Public Service Specialist of PATTIRO Rokhmad Munawir on Tuesday, 22 September 2015.
Yet, unfortunately, Sorong Government has not set the budget allocation to support the implementation of this regulation. In addition, if the government to legalize this draft of regulation, the lack of organizations which focus on difable issues would negatively affect the regulation implementation process. "There is no organization or community in Sorong which put more attention to the disabilities. Therefore, we must establish this kind of organization and also provide the difables with capacity building so that in the future they will be able to oversee the implementation of this regulation", Rokhmad asserted.
He added, the Central Government through its "Program Peduli" must also take part in encouraging civil society and strengthening the existing difable organizations so together they can monitor the enforcement of this regulation after its legalization. "And PATTIRO will also keep assisting and monitoring the discussion about this regulation draft until Sorong Government legalize it", Rokhmad said.
It is hoped that the Local Regulation Draft on Protection and Rights Fulfilment of Persons with Disabilities can soon be enacted. This will surely change the lives of the disabilities in Sorong District, entirely.