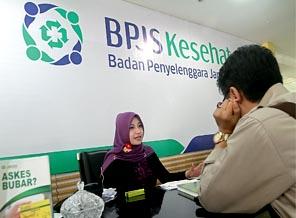 By Ega Rosalina
From 2001 until 2010, Indonesia's healthcare expenditure per capita leapt more than 300 percent and continues to skyrocket today, according to the WHO.
The government's efforts to deal with this problem by implementing a mutual assistance principal in the National Health Insurance (JKN) program has, unfortunately, not run optimally. Although BPJS Kesehatan has managed the program for almost two years, the lack of information regarding its systems and procedures, as well as poor services, continue to draw complaints.
As of June, the number of calls made by the public to the BPJS Kesehatan call center in 2015 reached more than 400,000. This indicates that since BPJS Kesehatan started managing the JKN program in 2014, many people have found the new system and procedure confusing.
This has led to chaos in the registration process, payment of dues and use of healthcare facilitations. Consequently, the public, as BPJS Kesehatan "magic" card users, feel cheated. After registering, many people's healthcare facility status, as stated on their cards, does not match what they chose, leading to accusations of negligence on the part of the BPJS Kesehatan officials tasked with entering user data.
Unfortunately, BPJS Kesehatan has come up with no solutions, forcing users to wait for three to four months before fixing the mistake. Users then have to spend more money on transportation if the distance of the healthcare facility BPJS Kesehatan chose is further than the one they selected; or people have to undergo medical treatment at closer healthcare facilities without BPJS Kesehatan paying. Worse, people are still obliged to pay their dues even though they have not been able to access the services.
_________________________________
… to perform supervision, the people must first understand what their rights and obligations are.
Moreover, when citizens access healthcare services, the behavior of the hospitals partnering with BPJS Kesehatan makes them even more frustrated. BPJS Kesehatan often provides people with a standard of service not equal to that to which their paid dues entitle them.
People are often told that "rooms are full" by hospitals partnering with BPJS Kesehatan, or that they have run out of certain medicines. Because of these excuses, users have to spend a good deal more money to get the medication they need.
It is the duty and responsibility of BPJS Kesehatan to solve these problems. From the very beginning, BPJS Kesehatan must provide its officers with in-depth knowledge and understanding concerning the right way to deal with complaints about healthcare services. It is not enough for officers to only understand the JKN program system and procedure; they must also be able to empathize with service users.
Moreover, BPJS Kesehatan is responsible for providing full information to its officers regarding the obligations and rights of its members so that they can directly respond to questions from users. BPJS Kesehatan must develop a mechanism for handling complaints systemically.
To do that, BPJS Kesehatan can start by documenting best practices regarding how their officers handle people's complaints, then develop a brand-new standard operational procedure (SOP) on handling complaints.
BPJS Kesehatan should disseminate this new system and procedure to each of its employees and the public as well, so people can help themselves if they encounter problems.
Citizens would be able to participate in improving healthcare services, including monitoring the performance of service providers. Without citizen control and monitoring, it will be hard for BPJS Kesehatan to provide better healthcare services.
However, to perform the supervision, the people must first understand what their rights and obligations are. As mentioned in Article 13 of the BPJS Law, the agency is responsible for providing information to the public about their rights and obligations. The law also states that the BPJS must provide information to the people regarding procedures for obtaining their rights and fulfilling their obligations.
If citizens participate actively in monitoring BPJS Kesehatan's performance and the quality of the healthcare service, unscrupulous parties will surely be deterred from deceiving service users. The services provided by BPJS Kesehatan will as such be improved, and eventually, it will be able to serve as the state's extended hand to fulfill the right of all citizens to health.
This article is published in the Jakarta Post Newspaper on November 22, 2015 with the title How to Deal with Complaints about Health Services.