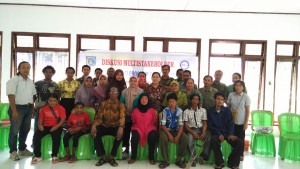 Aimas-Yayasan PATTIRO invites stakeholders, including health sector to discuss the government's commitment in fulfilling the rights of disabilities in Sorong. Community health center will become a model target for activities to fight the right of disabilities. Yayasan PATTIRO surveyed in 3 communities health center, namely Puskesmas Aimas, Mayamuk, and Mariat, the result will see the level of knowledge, altitude, and society's action to disabilities. The discussion invites difables, family, organization of difables group, social workers, health cadres, community health center, and related offices.
The head of disabilities sponsorship of Social Department, Daud Piter S.Sos said PATTIRO emerged to remind the government. "During the time the government forget the disabilities, PATTIRO reminds us, we have a specialized field that caring of disabilities, and PATTIRO help us because we have same goals," said the head of disabilities sponsorship of Social Department, Daud Piter S.Sos
According to Chairman of DPD association of Indonesian disabilities (Pertuni) West Papua, Welem assume that the right of disabilities still excluded. "We hope the Government can conduct real action and learn more about disabilities in order to understand our necessity," said the blind man who also works as masseur.
Respondent from 90 disabilities in Sorong district, only 3% know about the law of protection of disabilities. Only 39% have specialized skills, and from 39% only two people who received entrepreneur training. There are 51% from 89 respondents who participate in the community. Only 12% from 90 respondents who had received government assistance particularly for disabilities, and only 16 persons participated in development planning activity. "Disabilities issues is new in Sorong district, so it takes time to raise these issues. However, from discussion result, KSPD has begun to understand these issues" said Nurjanah from PATTIRO Jakarta team.
This article is taken from Radar Sorong site on 3 November 2015. Please click here to see the news.