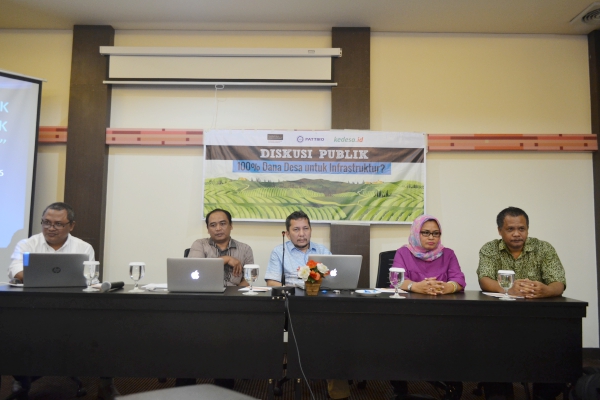 The Village Government refuses village funds policy entirely for infrastructure. This is supported by the result of PATTIRO research team in several villages in Central Java, Yogyakarta, and Riau.
PATTIRO researcher Ahmad Rofik revealed that several excellent villages in three provinces refuses village fund policy 100% for infrastructure. Local Government wants these funds also for community development, for example Villages in Siak district, Riau Province is planning on using village fund to develop their village-owned enterprises (BUMDes).
In line with Ahmad Rofik, Chairman of Indonesian Association of Village Administrators (APDESI), Wargiyanti also said the rejection of village funds policy 100% for infrastructure, because it does not match with law number 6 Year 2014 about Village and government regulation number 113 year 2014 about the management of Village finance. Wargiyanti also added there are still community needs, such as health, education, small enterprises and creative economy.
Moreover, Executive Director of Lembaga Kerja Desa Indonesia (LAKERDIN) Purwoko explained if villages fund should open space for community or civil society to break priority scale determined in development based on Village interest. Ministry of Village also should focus on transparency of fund activities that will be written in Government Work Plan (RKP) and issued on Annual Subdistrict Budget (APBDes).
Public discussion "100% Village Funds for Infrastructure" that organized by PATTIRO and Kedesa.id supported by Making All Voices Count (MAVC) held on Thursday, March 10 2016 at Sofyan Hotel Tebet, Jakarta. PATTIRO Researcher Ahmad Rofik, Chairman of APDESI Wargiyanti, Executive Director of LAKERDIN Purwoko, member of Ombudsman RI Alamsyah Saragih, and member of Satgas Desa Sutoro Eko are attending as speaker. Representatives from central and village government, civil society, donors, and media also involved in this discussion.