By: I Wayan Nike Suputra*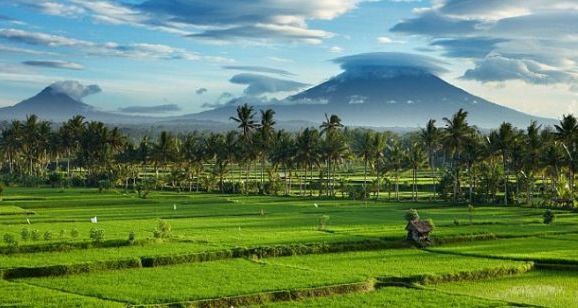 Village is a part of system (spatial structure)[1]. In Urban & Regional Planning book, A System Approach (McLoughlin, 1969), definition of system explain below:
A system is a set of interconnected part, but each part may be seen as a system itself, and the whole system may be regarded as but one part of a larger system[2]
The definition of system can be easier to understood by district system model that have district part as small system and district have village as small system. Each part of district system has their role in optimizing district system performance.
Village has a role to create optimal performance system as a district function. For example, Bantul district in Jogjakarta Provinces, which have famous tourism destinations. Bantul district at least has 38 tourism objects, namely south coast areas, industrial areas and Kajigelem, agropolitan and agro tourism, Mataram royal cemetery area.[3] Each village that become tourism object has a role in supporting Bantul performance in accordance with performance direction written in neighborhood unit (RT)/ Community Unit (RW) and Mid-Term Development Plan (RPJM) Bantul district.
One of development direction in spatial planning document is tourism development.[4] RT/ RW of Bantul district provide tourism utilization that means where tourism area is located and where the area that has potential develop to be new tourism area. Whereas RPJMD Bantul district contains development strategies to develops tourism such as increasing number of tourism investments and tourism sites.
Tourism villages can create village development plans in accordance with district spatial plans by observing the charges related to location and development focus in district spatial document plan. This adjustment is referring two aspects contain in RT/RW of district, namely: objective, policies and strategies of spatial planning; as well as direction of spatial utilization that derived from structure plans and spatial pattern. Vision and mission that will publish in village RPJM should be guided of objectives, policies, and spatial strategies in RT/RW to be in line and not cause conflict. Then, spatial use directives in RT/RW will guide development plans to avoid conflict of space utilization.
Synchronization of Village Plan with district is not difficult if village RPJM document preparation, the drafting team have information access of spatial planning document in district (RT/RW and RPJMD). Formulation of village development plan can be starting to analyze existing condition (it can be potential, problem) and development trend. Then, analyzing village facility needs and strategic issues that can be raised in village development program. At this stage, formulation of village development program plan need to refers to district spatial plan document so that it can in line with the policy direction of district plan. Active citizen participation in providing input related to village local issues (facility needs, handled crucial budget problem and village potential that can be developed), become important input in formulating village development program plan.
---
[1] Spatial structure is a physical manifestation of the system. In Law number 26 year 2007 explained that spatial structure is a composition of settlements and network system infrastructure that support social and economic activities of society as hierarchical structure
[2] Quote from Retno Widodo explanation (lecturer of Department of Urban and Regional Planning Engineering, Gadjah Mada University in Method and Analysis Technique Course
[3] Mid-Term Development Plan of Bantul district in 2011-2015
[4] ibid
*The Author is Architectural and Planning Engineering student, Gadjah Mada University who finished internship in PATTIRO