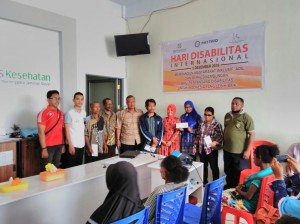 In order to improve the health of difable persons, the Center for Regional Studies and Information (PATTIRO) and the Social Security Agency (BPJS) Health, distributed 130 Healthy Indonesia Cards (KIS) to 130 difable persons in Sorong on the eve of International Disability Day (HDI), 3 December 2016.
The modest ceremony was attended by 17 difable persons, 10 parents of difable children, seven companions, five BPJS representatives, one representative from PATTIRO, six representatives from SKPDs consisting of district head, village head, social services and KPL PKM, and the media.
The Coordinator of PATTIRO Care Program of Sorong Region, Teguh Sugiarto, stated that as many as 35 cards have been printed and distributed. "The rest are being printed and will be distributed by the Organization of Parents of Difable Children," said Teguh in Sorong, West Papua on Saturday, 3 December. The activity held by PATTIRO and the Organization of Parents with Difable Children was financially supported by PATTIRO, BPJS and private donors.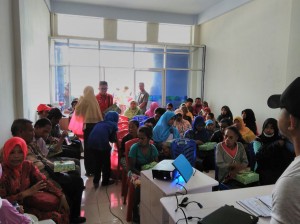 The PATTIRO Care Program has been implemented since June 2015 in Sorong Regency in West Papua, and West Lombok Regency.