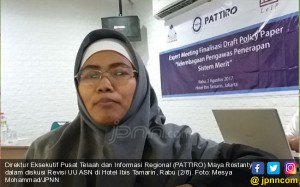 jpnn.com, JAKARTA – The State Civil Apparatus Law (UU ASN) is considered not appropriate to revise.
Other than being new, the government regulations that derive from this Law have not been published. From the 11 drafts of government regulations on state civil apparatus, only two have been enacted.
"We believe it's too early to revise UU ASN. Especially as the Law has not been implemented. It's funny that the Law has never been implemented, but it is to be revised," said the Executive Director of PATTIRO, Maya Rostanty, in a discussion on the Revision of UU ASN in Hotel Ibis Tamarin, 2 August 2017.
Based on discussion with several parties, Maya continued, two groups have an interest in the revision of UU ASN.
The first group is the non-permanent ('honorary') employees and non-tenured (PTT) employees who demand to be given Civil Servant status. The second is the regional leaders, who are obstructed from the practice of trading of positions, due to the transparent system for the JPT (high leadership position).
"What is worse, the State Civil Apparatus Commission (KASN) is to be eliminated in the revised Law. This of course is a major obstacle to the merit system," she said.
PATTIRO Program Manager Wawanudin added that to guard the implementation, an independent institution, namely the KASN, which is independent from the decision maker and the implementing organization, is required.
"KASN is an independent body, directly responsible to the president. Thus, the suggestion to eliminate KASN through the revision of UU ASN, and returning its authority to the Ministry of State Apparatus Empowerment and Bureaucratic Reform (KemenPAN-RB) is not appropriate. (esy/jpnn)
www.jpnn.com/news/revisi-uu-asn-dinilai-hanya-untungkan-kelompok-tertentu?