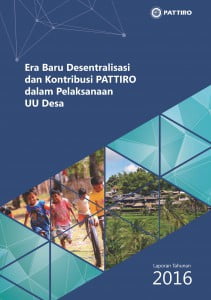 In 2016, PATTIRO has reached its 17th year. Sweet seventeen, the age that is seen as a sign of starting to reach adulthood which can be interpreted by PATTIRO will be more productive in making its contribution to the development of Indonesia in accordance with its role as a think tank that focuses on three areas, namely transparency, public financial management and public service accountability.
Also this year we conducted a review of the achievements of the 2012-2018 Strategic Plan which was implemented in the first three years (February 2012-February 2016). The results of the subsequent review are used to prepare the second phase of the Strategic Plan (2016-2018), At the end of 2016, we have carried out the process of changing the Director, from Sad Dian Utomo who was replaced by Maya Rostanty. The term Director (not Executive Director) refers to the condition of the Chairman of the Governing Body who also serves as Daily Executor. Maya Rostanty is the second female Director, after 2006-2008 PATTIRO was led by Dini Mentari. This shows how we are committed to promoting gender equality. Thus, since its establishment in 1999, PATTIRO has undergone five Director changes.
We are thankful that the process of changing the leadership of PATTIRO went smoothly and there is continuity between Directors with reference to the PATTIRO Strategic Plan. I really hope that the new Director will bring PATTIRO to be more productive in producing innovations for the progress of Indonesia.
Responding to national dynamics, which is the second year of implementation of the 2015-2019 RPJMN 2015-2019 from President Joko Widodo as well as the second year of implementation of the Village Law, PATTIRO contributes by implementing several programs on Village issues. Finally, PATTIRO expresses its gratitude to its partners, namely Result for Development, APIK USAID, The Asia Foundation and Institute of Development Studies (IDS) and the Ministry of Women's Empowerment and Child Protection. Hopefully the spirit of togetherness and cooperation that has been built can continue and increase in the coming years.