PATTIRO wins the Global Think Tank award again for 2019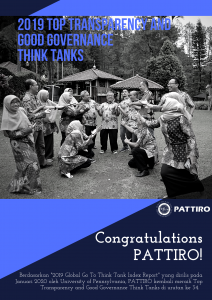 Jakarta, Februari 15, 2020.
Based on the "2019 Global Go To Think Tank Index Report" released in January 2020 by the University of Pennsylvania, PATTIRO once again made the list of the Top Transparency and Good Governance Think Tanks, at the 34th position out of 67 world think tanks on the issues of transparency and good governance. This award has been won in continuously by PATTIRO since 2011.
Responding to the achievement by PATTIRO, PATTIRO Director Maya Rostanty expressed her gratitude for the appreciation held by one of the world's leading universities. "Thank God for this award. Because to maintain the top 40 rank is a challenge for us, with the large number of think tanks in the entire world, "said Maya.
Maya said that to maintain this award, the efforts made by PATTIRO were to develop quality knowledge products through various research and policy advocacy. "PATTIRO continues to strive to develop knowledge products through research and preparation of policy recommendations. We will convey the results of the research and policy recommendations to stakeholders both at national and global levels," Maya said.
Meanwhile, Chairperson of the PATTIRO Foundation Board of Trustees, Syahrir Wahab stated his gratefulness and pride of the award received by PATTIRO. According to Syahrir, the award given is the result of the hard work of all PATTIRO Raya activists who have always worked in conducting research and advocacy to the government and other stakeholders. "I am grateful and proud of the award given by the University of Pennsylvania. This award is the result of the hard work of all PATTIRO Raya activists who have been actively contributing in promoting transparency and good governance in Indonesia," said Syahrir.
Besides being grateful and proud, Syahrir also hopes that this award will motivate PATTIRO to continue working. "I hope this award will be a motivation for PATTIRO to continue working for the progress of development in Indonesia," said Syahrir.
Syahrir also expressed his gratitude to development agencies, donors and government agencies who have supported and cooperated with PATTIRO. "I thank the development agencies, donors and government agencies that have collaborated with PATTIRO. The award cannot be separated from the support given to us so far," added Syahrir.
About The Think Tanks and Civil Societies Program (TTCSP)
Research on the role of think tanks working in government and civil society issues worldwide is carried out by the University of Pennsylvania through The Think Tanks and Civil Societies Program (TTCSP). TTCSP has developed and led a series of global initiatives that have helped bridge the gap between knowledge and policies such as international peace and security, globalization, international economy, environment, information and society, poverty alleviation, and global health services. This international collaborative effort is designed to build a network of regional and international policy institutions to improve policy making and strengthen democratic institutions and civil society throughout the world.
There are 4 main categories of think tanks in 2019, namely Top Think Tanks by Region; based on Research Area; based on special achievements; and the World Top Think Tanks. By region, there are eight regions, including Central and South America, the United States, Western Europe, and Southeast Asia and the Pacific. Based on  research area, there are 16 areas, one of which is Transparency and Good Governance. Whereas for special achievements the categories included best advocacy campaigns and the best profits. In addition, there is also a world ranking, which in this year was won by Carnegie Endowment for International Peace from the United States, after three consecutive years (2016-2018) during which the Brookings Institution, also from the same country, held the position. (FM / SDU)
To read the 2019 Global Go To Think Tank Index Report, download below.
[wpdm_file id=194]