"URGENCY OF LOW CARBON AND EQUALITY-ORIENTED DEVELOPMENT TO OVERCOME GAPS AND PROTECT THE ENVIRONMENT AND LIVELIHOODS OF INDIGENOUS PAPUANS"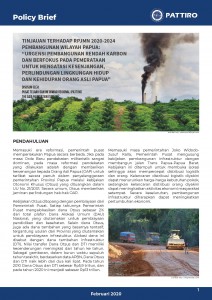 With the advent of the Reformasi era, the central government began treating Papua differently. While during the New Order, the militaristic approach was highly dominant, during the reformasi period, the approach undertaken was to give authority to the Indigenous Papuans (Orang Asli Papua, OAP) to be fully involved in the administration of the Papua Province through the Special Autonomy (Otsus) policy as outlined in Law No. 21/2001. In general, Otsus guarantees the protection of OAP rights.
The Special Autonomy policy is supported by funding from the Central Government. Each year the Central Government allocates a Special Autonomy Fund, amounting to 2 percent of the National General Allocation Fund (DAU), prioritized to finance education and health. In addition to the Special Autonomy Fund, there are also additional funds which are variable in size, depending on proposals from the Province, which are prioritized for infrastructure financing. The allocation of these funds is referred to as additional infrastructure funds (DTI). The transfer value of Special Autonomy Fund and DTI has a tendency to increase from year to year. As an illustration, in the last ten years, based on APBN data, the Special Autonomy Fund and DTI more than doubled. In 2010 the Special Autonomy Fund and DTI amounted to Rp 5.9 trillion, and in 2020 this amounted to Rp 13 trillion.
Under Joko Widodo and Jusuf Kalla, the Central Government began to carry out infrastructure development policies by building the Trans Papua-West Papua road. This policy was taken to open isolation so that it would speed up the distribution of logistics and persons. The smooth distribution of logistics is believed to reduce the prices of basic necessities, while ease of travel is believed to increase the economic activities of local communities. Overall, infrastructure development is expected to increase economic growth.
[wpdm_file id=196]