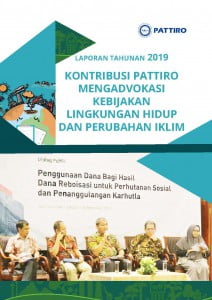 This year is a special one as PATTIRO celebrates its 20th anniversary. We are grateful that PATTIRO can exist and continue making efforts to contribute its best in the field of governance, especially in the three focus areas of transparency, public finance management reform and public service accountability.
Beginning from the similarity in the view of two colleagues working in the "Warta Ekonomi" media, we started PATTIRO 's work from the garage of a house in the Gandaria area. April 17, 1999 was the date of birth of PATTIRO, about 11 months after the end of the Soeharto era. That moment, we saw the need for optimizing decentralization for open participation of community members in the implementation of regional government.
In its journey, PATTIRO has faced various challenges. Alhamdulillah, we are blessed with activists who have strong loyalty and passion to continue developing PATTIRO. Year after year, we continue to develop innovation to realize our vision as center of excellence in local governance issues.
Our hard work has resulted in appreciation from the Global Think Tank (University of Pennsylvania) in the Transparency and Good Governance category for the last nine years. Besides that, our efforts to formulate and deliver policy recommendations has been responded positively by the government. Policy advocacy using constructive engagement is seen as effective for voicing the public interest in the process of formulating public policy.
If last year we reviewed the theme of PATTIRO's journey in developing inclusive, equitable and gender-responsive development initiatives, this year, we discuss the theme of PATTIRO's contribution in advocating environmental and climate change policies. We hope that all of PATTIRO's efforts in supporting policies that are pro-environment and climate change will inspire stakeholders and motivate us to continue to innovate.
Finally, I would like to thank all those who have supported PATTIRO's work. Enjoy reading and studying the contents of this annual report.
Regards,
Syahrir Wahab