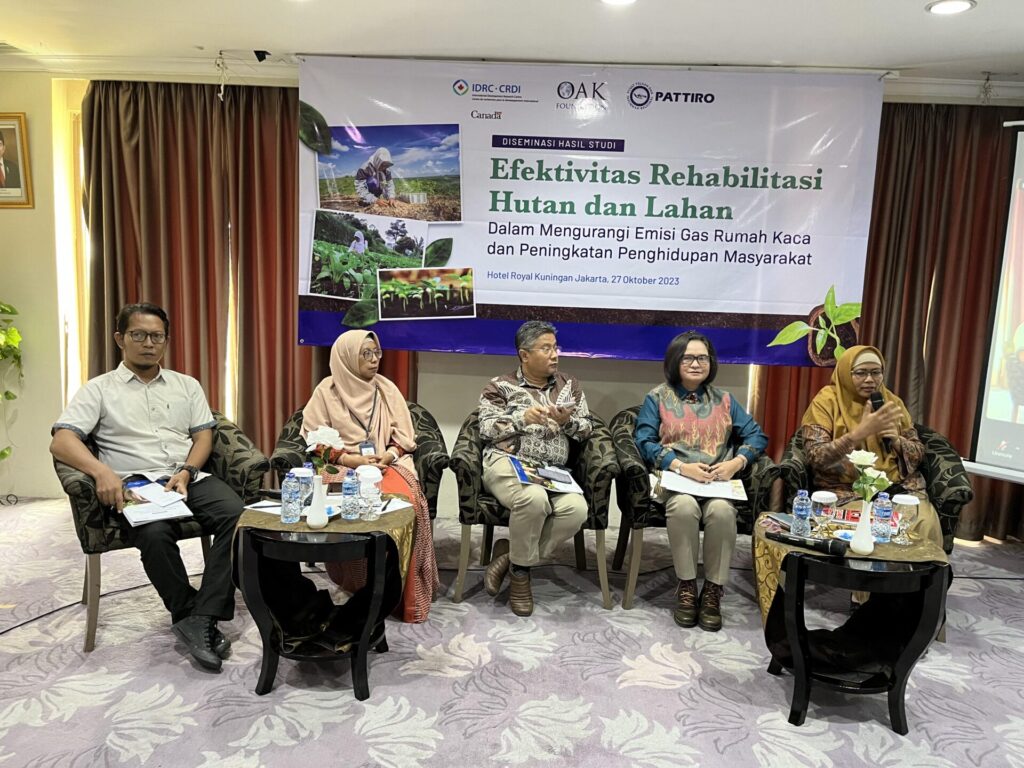 Forest and Land Rehabilitation (RHL) carried out by Forest Farmer Groups (KTH) has a better level of effectiveness compared to RHL management carried out with contracted companies. KTH's involvement starting from the planning process gave them a higher sense of ownership in looking after the plants because they were involved from the start. This emerged at the Dissemination of Study Results on the Effectiveness of RHL in Reducing Greenhouse Gas Emissions and Improving Community Livelihoods at the Royal Kuningan Hotel, Jakarta on 27 October 2023 which was organized by PATTIRO thanks to the support of the Oak Foundation and IDRC.
In his remarks, the Executive Director of PATTIRO, Bejo Untung, explained that in the 2020-2024 RPJMN, RHL supports two national development priorities, namely economic resilience and development that accommodates environmental sustainability for climate resilience. Apart from that, RHL is a form of Indonesia's commitment to the global agreement in the Paris Agreement to achieve the Nationally Determined Contribution (NDC) target. "In this regard, we want to capture how RHL is managed, both at the central and regional levels," said Bejo.
PATTIRO Program Manager, Ramlan Nugraha, in his presentation stated that there are five success factors for RHL so that the program can be effective, namely supporting human resources (HR), supporting organizational structure, clear work mechanisms and division of work, adequate budget, and policies. Supporting RHL. RHL practices are regulated in the Minister of Environment and Forestry Regulation (Permen LHK) Number 23 of 2021. Ramlan also added that based on the research results, PATTIRO proposed the need to encourage the process of analyzing and identifying maps of prospective RHL locations and strengthening institutions in the Minister of Environment and Forestry Regulation.
This was responded to by the Functional Associate Expert, Directorate General of Watershed Management and Forest Rehabilitation, Mery Simanjuntak who confirmed that as of 2022 RHL management would use a contractual scheme as a minimum. "We prioritize labor-intensive management with a self-management scheme in which community participation is very dominant," said Mery. So far, this scheme has been implemented in the Social Forestry area.
Planting trees is indeed a job that cannot be done once and then released. There needs to be a care role so that the tree can grow and be declared successful in RHL. Intermediate Expert Planner, Planning Bureau of the Secretariat General of the Ministry of Environment and Forestry, Mohamad Darojat Ali emphasized that institutional strengthening and community participation are very much needed to fill this role. Therefore, according to him, constructive preconditions and communication are the keys to RHL's success. Secretary General of the Indonesian Social Forestry Management Association (AP2SI), Achmad Rozani, added that this institutional strengthening should be carried out by KTH and the local Forestry Service.
Meanwhile, currently planting trees in the forest under the RHL program is facing challenges in the form of a dry season with very hot weather. Young Expert Forest Ecosystem Controller, East Kalimantan Forestry Service, Dadang Rukmana stated that the success of plants planted for the RHL program was low.