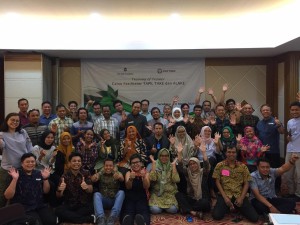 Since 2018, The Asia Foundation (TAF) together with the Civil Society Organization (CSO) Network has developed initiatives to encourage policies on ecological-based fiscal transfers at the regency level, called the Ecology-based Regency Budget Transfers (TAKE), and at the provincial level, called the Ecology-based Provincial Budget Transfer (TAPE). TAPE and TAKE are incentive schemes in the form of fiscal transfers from the provincial to regency/city governments, and from the regency to village governments, based on environmental performance. This initiative has been implemented by the Governments of North Kalimantan Province, Jayapura Regency and Nunukan Regency. At the end of 2019, an ecology-based incentive scheme was developed in the allocation of subdistrict funds, hereinafter referred to as the Ecology-based Subdistrict Budget Allocation (ALAKE).
In order to expand the TAPE, TAKE, and ALAKE initiatives, PATTIRO together with TAF conducted training for CSO activists who were being groomed to become facilitators to assist local governments in pushing for TAPE, TAKE, and ALAKE policies, on March 4-6, 2020 in Surabaya.
PATTIRO Director Maya Rostanty explained that besides giving an understanding of the concepts of TAPE, TAKE, and ALAKE to CSO activists, this training also aimed to provide skills in creating formulas, indicators, and simulating TAPE, TAKE, and ALAKE allocations.
"The purpose of this training is to provide CSOs with an understanding of environmental issues, the concepts of TAPE, TAKE, and ALAKE, as well as skills in creating formulas and simulating allocation calculations for TAPE, TAKE, and ALAKE," Maya said.
Therefore, Maya asserted the participants selected for training were those chosen from various regions, who were considered to meet the criteria. "They were chosen based on criteria determined jointly by TAF and PATTIRO, namely having basic knowledge on budget issues, regional planning and budgeting, and advocacy. So it's not just giving the training to any random CSO, "Maya said.
Meanwhile, the Director of TAF's Environmental Management Program, Lili Hasanudin, on the occasion of the training said that by holding this training CSO activists are expected to follow up with an advocacy plan to encourage TAPE, TAKE, and ALAKE policies in their respective regions. "I hope that after training, CSOs who have been trained can develop advocacy plans to expand TAPE, TAKE and ALAKE policy initiatives in their respective regions, and be able to assist local governments who are committed to implementing ecology-based budget transfer policies, at the provincial, regency as well as the village levels," said Lili.
The three-day training was facilitated by Bejo Untung, Fitria (PATTIRO), Ahmad Taufik, and Roy Salam (TAF Consultant), as well as speakers from TAF namely R Alam Surya Putra and Erman Rahman and resource persons from the Fiscal Policy Agency (BKF) of the Ministry of Finance, Joko Tri Haryanto.