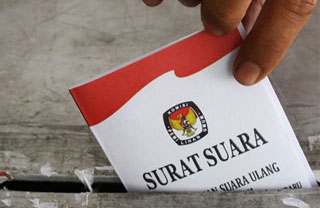 JAKARTA, KOMPAS – Despite government is trying to negotiate some issues related to revision of local government law; some issues still have not been agreed. One of them is the regent / mayor issues.
Government still wants regent / mayor election conducted by Parliament. While the majority fraction in parliament still want regional head (kepala daerah) elected directly
"The Government and Parliament have agreed that the election for governor still be done in person (directly), mayor / regent election is ongoing  discussed, "said General Director of Regional Autonomy,  Djohermansyah Djohan on Wednesday (17/7), in Jakarta.
In a lobby meeting  with the leaders of Interior Ministry ,The working committee group of Election bill , Commission II of parliament, Tuesday (6/7) , the government again proposed gubernatorial elections should conducted in person (Direct), while the regent / mayor elected by the parliament.
The leader of working committee group of Election bill, Arif Wibowo, said that his party has asked the government to explain the proposal in detail, particularly related to the reasons and legal basis for the proposed direct election of governors and regents / mayors by Parliament.
After that, the lobby forum will be re-conducted among Commission II members, fraction leaders, and government.
According to the plan, the lobby meeting is done in one year trial 2013-2014 that will be started by next August 16. The government hopes that the discussion on local election bill, local government bill, and village bill can be completed.
In the lobby meeting on Tuesday evening, together with leaders of parliament commission II and Representatives of fractions government re-discuss on local government regulation plan which will divided into local government bill, electoral bill, and village bill
Djohermansyah said that indirect elections at the district / city level is expected to be more appropriate for people who are not ready yet with it. When inadequate public awareness and people still choose to "mortgage" their sovereignty only because of money, it will affect people itself because people will found the elected leader without enough capacity and of course it triggers high conflict among people on the ground and elite group.
The Regent / mayor will declare as elected Regent /mayor if he or she gets more than 50 percent of parliament vote. However, to prevent money politics, The Corruption Eradication Commission (KPK) will be involved throughout the selection process. According to the plan, the new system will be implemented starting in 2015 with outright local election. (INA / NTA) (Quoted from Kompas , Thursday, July 18, 2013)